US opens embassy in Solomon Islands: Blinken
2023-02-02 12:21:02 GMT
2023-02-02 20:21:02(Beijing Time)
Sina English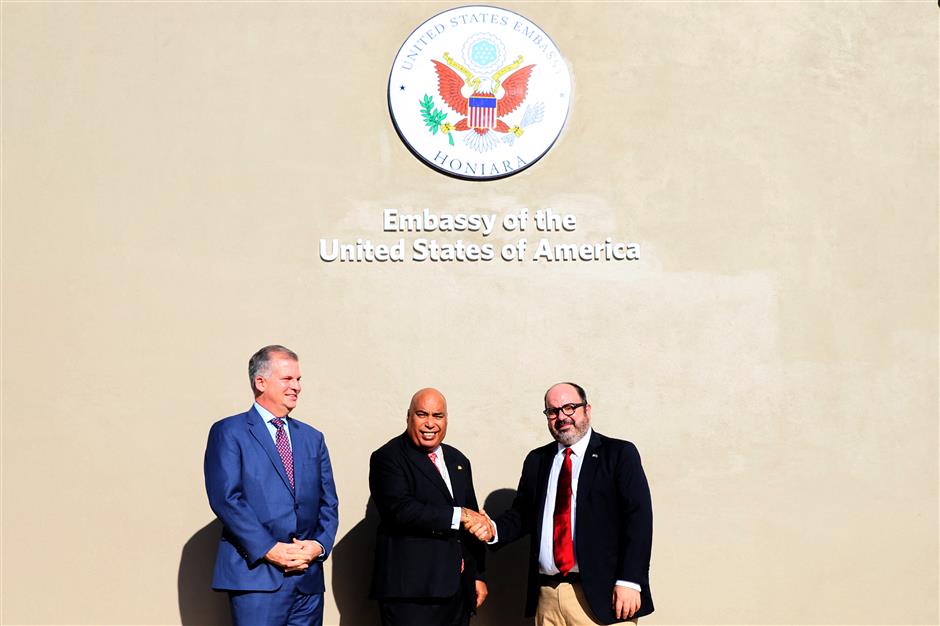 AFP
Solomon Islands Permanent Secretary, Ministry of Foreign Affairs and External Trade Colin Beck (center) pose with director EAP/ANP of the US Department of State Taylor Ruggles (left) and Charge d'Affaires interim, US Embassy Solomon Islands Russell Comeau during the reopening ceremony of the US embassy in Honiara, Solomon Islands on February 2.
The United States has opened an embassy in the Solomon Islands after a 30-year absence as it seeks to boost diplomatic relations in the Pacific.
Secretary of State Antony Blinken announced plans to open a diplomatic mission in the Pacific island nation during a visit to the region last year. The last US embassy in the Solomons closed in 1993 amid post-Cold War budget cuts and the United States was represented there by an ambassador based in Papua New Guinea.
In a statement on Wednesday, Blinken said the State Department informed the Solomon Islands' government that the opening of the new embassy in the capital Honiara became official as of January 27.
"The opening of the embassy builds on our efforts not only to place more diplomatic personnel throughout the region, but also to engage further with our Pacific neighbors, connect United States programs and resources with needs on the ground, and build people-to-people ties," he said.
A joint declaration between Washington and 14 Pacific island states resolved to strengthen their partnership and said they shared a vision for a region where "democracy will be able to flourish."