Nearly 200 soldiers freed in Russia-Ukraine prisoner swap
2023-02-05 01:00:09 GMT
2023-02-05 09:00:09(Beijing Time)
Sina English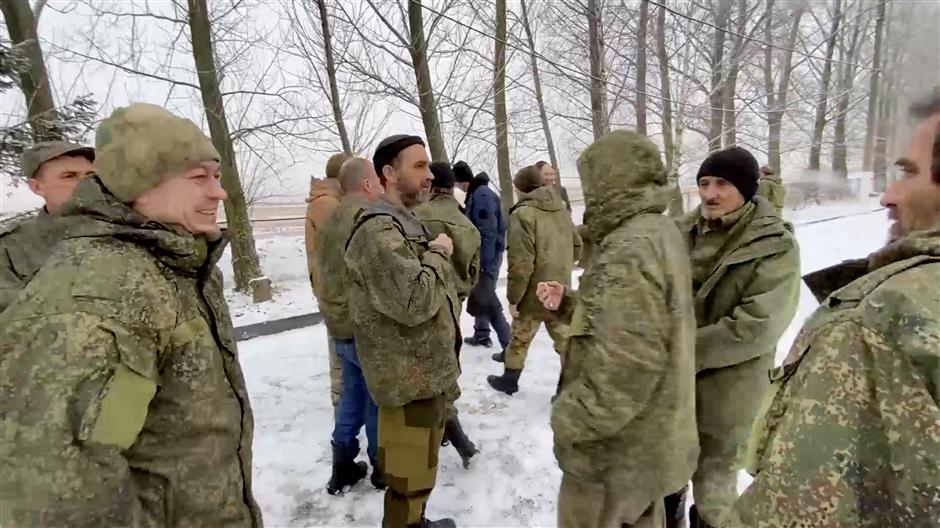 Reuters
A still image from a video, released by Russia's Defence Ministry, shows what it said to be captured Russian service personnel near a bus following the latest exchange of prisoners of war at an unknown location in the course of Russia-Ukraine conflict, in this image taken from handout footage released on February 4, 2023.
Dozens of Russian and Ukrainian soldiers have been freed following a latest prisoner swap, officials from both sides confirmed on Saturday.
Andriy Yermak, head of the Ukrainian President's Office, said in a Telegram post that 116 Ukrainians returned home, whereas Russia's state news agency TASS said that 63 Russian servicemen were released.
Yermak also said that Russia returned to Ukraine the bodies of two British voluntary aid workers, and a volunteer soldier from Ukraine's International Legion.
The exchange came after a negotiation brokered by the United Arab Emirates, marking one of the largest prisoner swaps between the conflicting parties since the start of the conflict.
As of early January, more than 3,000 Ukrainian soldiers remained in Russia's captivity.