9 killed, 47 injured in earthquake in Pakistan
2023-03-22 05:40:53 GMT
2023-03-22 13:40:53(Beijing Time)
Sina English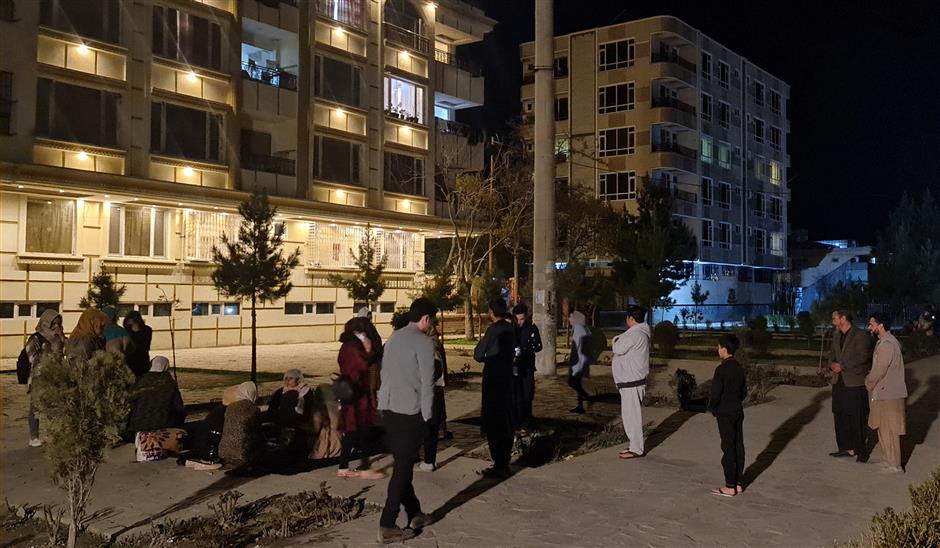 AFP
Afghan residents gather at the bottom of their apartment buildings following a strong earthquake in Kabul on March 21, 2023. A strong earthquake lasting for at least 30 seconds was felt across much of Afghanistan, Pakistan and parts of India Tuesday night.
At least nine people were killed and 47 others injured in northwest Pakistan in the 6.5-magnitude earthquake which jolted the country on Tuesday evening, an official statement said on Wednesday.
Provincial Disaster Management Authority (PDMA) of Pakistan's northwest Khyber Pakhtunkhwa province said five men, two women and two children are among the deceased in different areas of the province in the earthquake.
At least 21 women, 19 men and seven children were also injured and admitted to different hospitals in the province for treatment, added the PDMA.
An earthquake measuring 6.5-magnitude jolted parts of Pakistan on Tuesday night, according to the country's seismic monitoring center.
According to the US Geological Survey, the epicenter of the tremor, with a depth of 187.589 km, was initially determined to be at 36.5227 degrees north latitude and 70.9787 degrees east longitude in Jarm, Afghanistan.
The official statement added that the tremor also damaged 21 houses, including roof and wall collapse.
The earthquake also caused landslides in different areas in the country's northwest and northern regions, leading to road blockages.
Following the earthquake, emergency response centers were established and an emergency was declared in hospitals in northwest Pakistan.
Pakistan Prime Minister Shahbaz Sharif ordered the National Disaster Management Authority and other institutions to be ready to deal with any emergency.