US House nods bipartisan debt ceiling deal
2023-06-01 02:20:24 GMT
2023-06-01 10:20:24(Beijing Time)
Sina English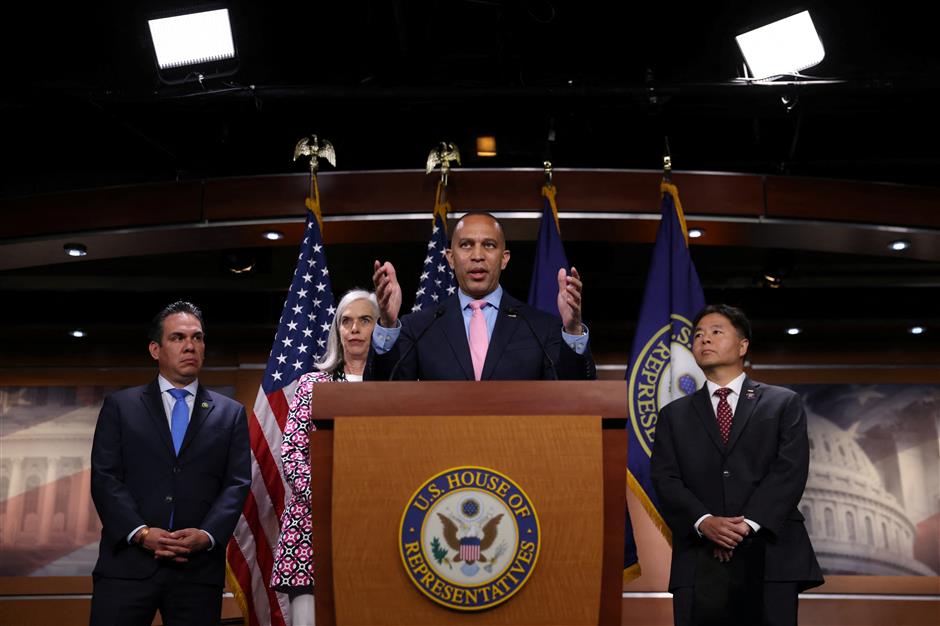 Reuters
US House Democratic Leader Hakeem Jeffries (center), accompanied by Democratic Whip Katherine Clark (second left), Democratic Caucus Chair Pete Aguilar (first left) and Democratic Caucus Vice Chair Ted Lieu (right), speaks at a news conference on Capitol Hill following a House Democratic Caucus meeting ahead of an expected vote in the US House of Representatives on a bill raising the federal government's US$31.4 trillion debt ceiling in Washington, US, on May 31, 2023.
The US House of Representatives Wednesday passed an act that suspends the application of federal government debt ceiling until January 1, 2025.
Lawmakers voted to pass the bill 314 to 117 after it was introduced to Congress late Sunday.
Entitled the Fiscal Responsibility Act of 2023, the act still needs approval by the US Senate and the signing by US President Joe Biden so as to avoid a historic default on government debt.
The United States hit its 31.4-trillion-US-dollar debt limit in January and is expected to default on its debt obligations by June 5 without raising or suspending the debt limit.