Jordan's crown prince weds Saudi architect in lavish wedding
2023-06-02 01:00:27 GMT
2023-06-02 09:00:27(Beijing Time)
Sina English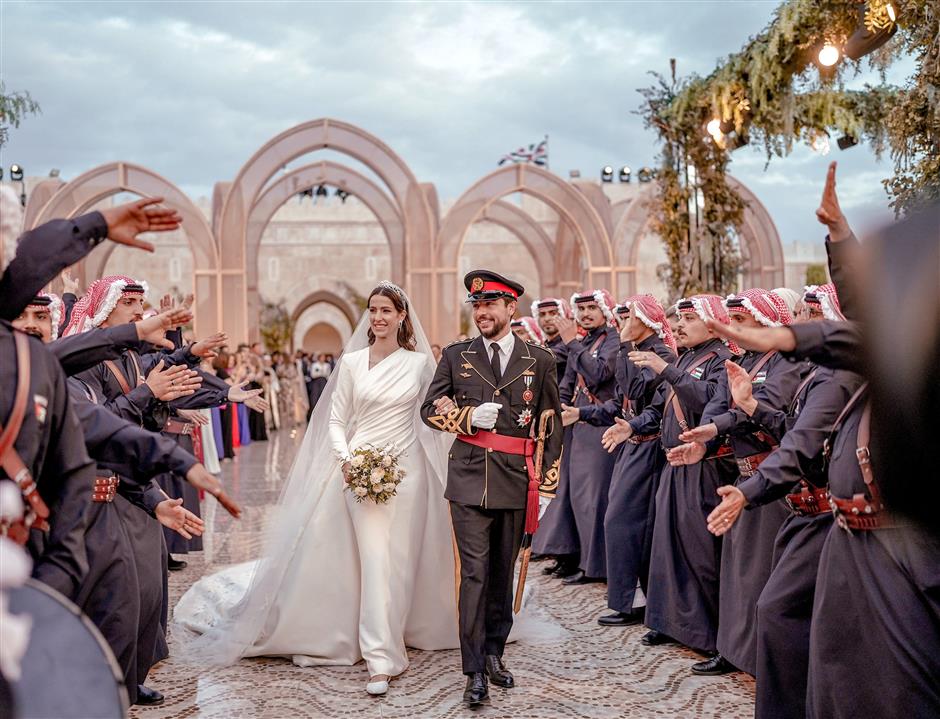 Reuters
Jordan's Crown Prince Hussein and Rajwa Al Saif are greeted as they walk together on the day of their royal wedding, in Amman, Jordan, on June 1, 2023.
Jordan's Crown Prince Hussein married Saudi Arabian architect Rajwa Al-Saif on Thursday during a lavish wedding ceremony attended by Arab and foreign dignitaries, the Royal Hashemite Court announced.
At the wedding ceremony held at the Zahran Palace, King Abdullah II of Jordan and Queen Rania warmly welcomed the guests that included kings, queens, princesses, and top officials from many countries across the world.
Crown Prince Hussein and Princess Rajwa headed to the Al Hussainiya Palace in a red motorcade that drove through the capital of Amman after the ceremony.
Many Jordanians lined up along the streets leading to the Al Hussainiya Palace to celebrate the royal marriage.
Upon arrival at the Al Hussainiya Palace, King Abdullah and Queen Rania hosted a wedding reception, which was attended by members of the royal family and members of the Al-Saif family, as well as the invited guests.