Hostages taken in suspected jihadist attack in Mali
2017-06-19 05:47:04 GMT
2017-06-19 13:47:04(Beijing Time)
Agencies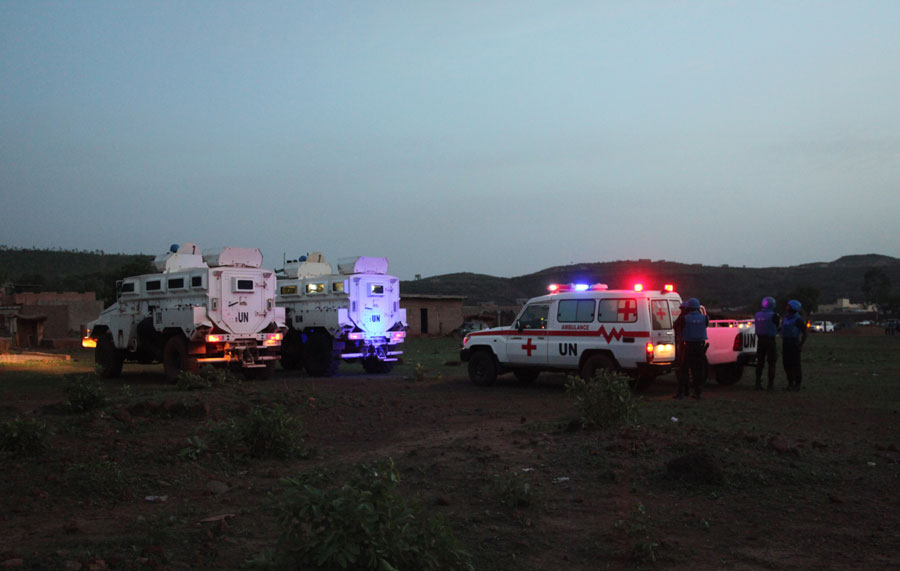 United Nations armored personnel vehicles are stationed with an ambulance outside Campement Kangaba, a tourist resort near Bamako, Mali, Sunday, June 18, 2017. A security official says suspected jihadists have attacked the resort in Mali's capital that is popular with foreigners on the weekends. The official with the U.N. mission known as MINUSMA, said people had been killed and wounded but gave no immediate toll. There also were believed to be hostages inside the luxury resort area. The people inside the Campement Kangaba hotel come from multiple nationalities, he added.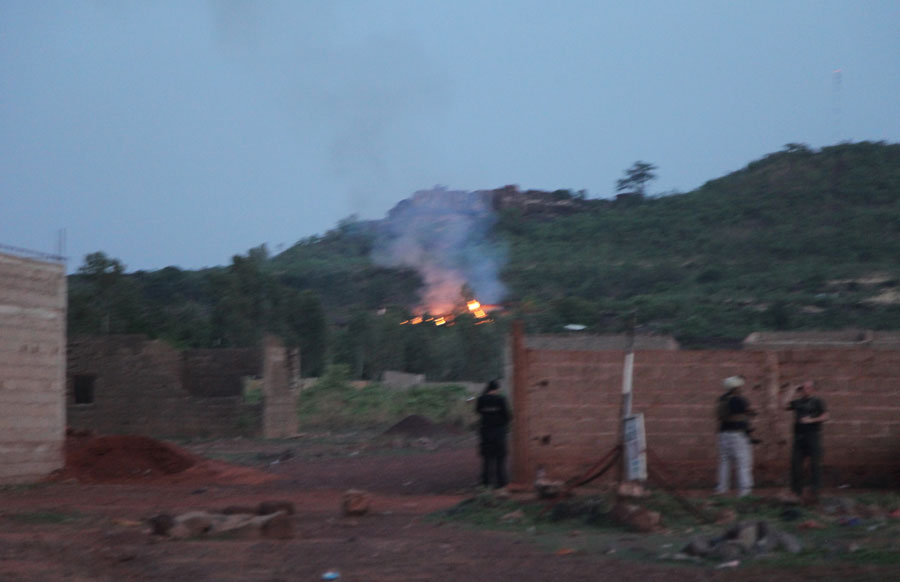 Fire can be seen by the swimming pool of the Campement Kangaba, a tourist resort near Bamako, Mali, Sunday, June 18, 2017. Suspected jihadists attacked the hotel resort Sunday in Mali's capital, taking hostages at a spot popular with foreigners on the weekends.
Suspected jihadists have attacked a hotel resort in Mali's capital and taken hostages.
Mali's authorities have issued a statement saying "terrorists" attacked the Le Campement resort.
"At first we thought that they were armed bandits, but we know the methods used by armed bandits, and they don't hold their ground, so we are now thinking that this is a terrorist attack and that's why the anti-terrorism prosecutor is already at the scene with his elements (staff).
It's reported Malian soldiers have succeeded in entering the resort area.
Mali's security minister has issued a statement confirming at least two deaths, one of which was a dual French-Gabonese citizen. One of the suspected attackers who were wounded in the attack managed to escape.
The resort under attack is located on the outskirts of the capital, about 30 minutes from downtown Bamako.
It's especially popular with foreigners.
There was no immediate claim of responsibility for the attack, which came amid the final week of the Muslim holy month of Ramadan.
The former French colony has aided by French and UN forces in its ongoing battle against Islamist extremists.
In November, 2015, gunmen raided another hotel in the capital city and killed at least 22 people.