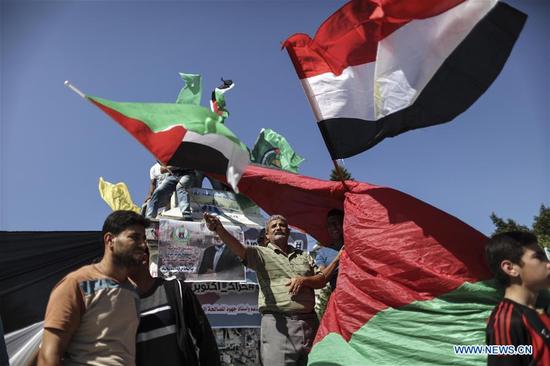 Palestinians celebrate after Palestinian rival movements Hamas and Fatah signed a reconciliation agreement following talks mediated by Egypt, in Gaza City, on Oct. 12, 2017. Palestinian rival movements Fatah and Hamas on Thursday signed a reconciliation agreement in a meeting in Cairo to end their long-time rift. (Xinhua/Wissam Nassar)
CAIRO, Oct. 12 (Xinhua) -- Palestinian rival movements Fatah and Hamas on Thursday signed a reconciliation agreement in a meeting in Cairo to end their long-time rift.
The two movements agreed on a complete handover of Hamas-ruled Gaza Strip to Fatah by December 1 and to enable the consensus government under Fatah to have full control of the enclave.
Reached after two-day Egyptian-brokered talks between ruling Fatah Movement and the Islamic Hamas Movement, the agreement signed in Cairo is considered a resumption of a frozen reconciliation deal reached in the same city in 2011.
Egypt invited all the Palestinian factions that signed the 2011 reconciliation agreement for a meeting in Cairo on November 21, a few days before complete handover of Gaza to Fatah.
Azzam al-Ahmad, Fatah Central Committee member and head of the movement's delegation in Cairo talks, said that what has been announced is only the core of the agreement, not all what has been reached.
"It was fully agreed on the concept of enabling the consensus government, and this means the return of the legal government to naturally work in accordance with its autrhorities and with the Palestinian basic law," Ahmad said in a press conference following the meeting.
"The division must be ended forever to unite the efforts of the Palestinian people with all their forces, led by Fatah and Hamas, to achieve the Palestinian dream of ending the Israeli detestable occupation and establishing a sovereign Palestinian state," the Fatah senior member added.
He continued that the Palestinians are confident that Arab fellow states including Egypt, Jordan and Saudi Arabia will continue their support of the reconciliation effort and follow up its implementation, praising Egypt's efforts in reaching the reconciliation deal.
For his part, Hamas new deputy chief Saleh al-Arouri, who led Hamas delegation in Cairo, told the news conference that Hamas and Fatah are brothers despite the past regrettable disputes.
"We Fatah, Hamas and other factions have no choice but to continue achieving the unity of our people in order to realize their hopes and aspirations," Arouri said.
Egypt has been hosting several inter-Palestinian reconciliation meetings between Fatah, Hamas and other factions since the time of ousted President Hosni Mubarak. Egypt also brokered in 2014 Hamas-Israel ceasefire in Gaza.
Relations between Egypt and Hamas have been tense since the Egyptian military ousted former Islamist president Mohamed Morsi, a Hamas ally, in 2013 and outlawed his Muslim Brotherhood group.
Ties gradually improved after Hamas showed security cooperation with Egypt and disengaged itself from the Brotherhood.
Palestinian President Mahmoud Abbas, who followed from Ramallah the signing of the agreement and gave his instructions to sign on it, said that reaching an agreement, brokered by Egypt, "would boost and enhance the steps of ending the Palestinian division."
In an official statement, a copy of which was sent to Xinhua, President Abbas thanked Egyptian President Abdel-Fatah al-Sisi for the role that Egypt has been playing to "make this great achievement."
According to the statement, Abbas instructed the consensus government and all other security apparatuses to work together to implement what had been agreed upon.
The Palestinian president called on all factions and political powers "to exert every possible effort to achieve the hopes and the aspirations of the Palestinian people to gain unity."