Kenya's First Lady launches strategic plan to fight cancer
2018-03-09 01:42:08 GMT
2018-03-09 09:42:08(Beijing Time)
Xinhua English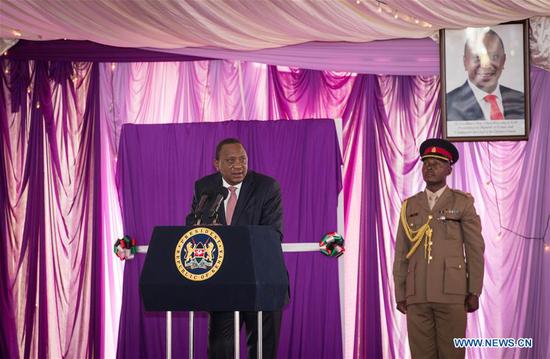 Kenyan President Uhuru Kenyatta (L) delivers a speech during the launching ceremony of the "Beyond Zero" campaign in Nairobi, Kenya, March 8, 2018. Kenya's First Lady Margaret Kenyatta on Thursday launched a second strategic plan for her campaign dubbed "Beyond Zero," and vowed to fight cancer and maternal and child mortality. (Xinhua/Lyu Shuai)
NAIROBI, March 8 (Xinhua) -- Kenya's First Lady MargaretKenyatta on Thursday launched a second strategic plan for hercampaign dubbed "Beyond Zero," and vowed to fight cancer andmaternal and child mortality.
Margaret said besides strengthening the maternal healthcare andHIV/AIDS awareness, which were the main focus in the last fouryears, the new plan now includes new health challenges thatcommonly affect women.
"Even though we have achieved much, many women and childrenstill lack the care to live healthy and fulfilling lives," she saidduring the launching ceremony in Nairobi that coincided with theInternational Women's Day.
The First Lady noted that the new framework will build on thefirst 2013-2017 action plan, which was aimed at HIV control andpromotion of maternal and child health, and addresses healthchallenges from childhood, adolescence and adulthood.
The new plan, which has now been aligned with SustainableDevelopment Goals (SDGs), is linked to President Uhuru Kenyatta'sBig Four agenda of food security, universal health care, decenthousing and manufacturing; and Vision 2030 on provision ofuniversal health care by 2022.
"These goals have never been more important; and we have neverbeen closer to achieving them than we are now," Margaret said.
She said her new strategy will be focused on influencinginvestment for breast and cervical cancer prevention, treatment andmanagement, mobilizing men to be take active role in HIV andreproductive health and championing country validation for thepre-elimination of mother-to-child transmission of HIV by 2021.
Other new roles, she said, will be to advocate social inclusionof children living with disability for equal access to health andeducation services, advocate for access to comprehensive healthcare and social protection and advocate for repair andreintegration of women living with obstetric fistulae.
The First Lady also underscored the importance of mobile clinicsand the marathon race as innovative platforms that successfullyspurred action to achieve the goals of the "Beyond Zero"campaign.
Margaret's husband, President Uhuru Kenyatta who graced theoccasion pledged support to the initiative, terming it as a greatsuccess in reducing maternal and child mortality since itsinception.
Chinese Ambassador to Kenya Liu Xianfa also attended theceremony. The Chinese embassy had supported the campaign by fundingthe purchase of mobile clinics and medical equipment for fourconsecutive years since the inception of "Beyond Zero."
The Chinese embassy donated medical equipments worth about130,000 U.S. dollars to Kenya after the ceremony. The equipment,including infusion pumps and micro-injection pumps, will benefitsix health facilities in Nairobi and Tana River counties.Enditem