Zimbabwe declares cholera outbreak in capital city state of emergency
2018-09-12 03:08:04 GMT
2018-09-12 11:08:04(Beijing Time)
Xinhua English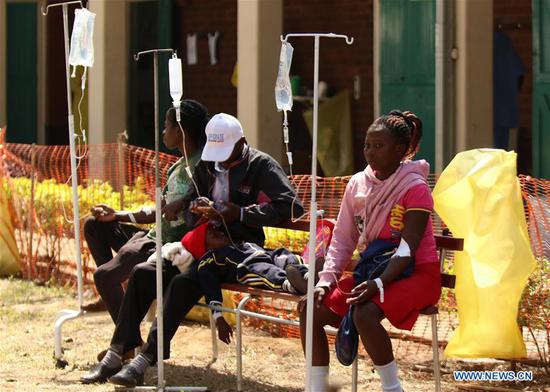 Suspected cholera patients receive treatment at a local hospital in Harare, Zimbabwe, Sept. 11, 2018. Zimbabwe on Tuesday declared the raging cholera outbreak in the capital Harare a state of emergency. The outbreak in the city's high density suburbs of Glen View and Budiriro which began last week has so far killed 20 people and infected more than 2,000 people. (Xinhua/Shaun Jusa)
HARARE, Sept. 11 (Xinhua) -- Zimbabwe on Tuesday declared the raging cholera outbreak in the capital Harare a state of emergency.
The outbreak in the city's high density suburbs of Glen View and Budiriro which began last week has so far killed 20 people and infected more than 2,000 people.
The outbreak has also spread to other parts of the country.
Newly appointed health minister Obadiah Moyo told reporters that government was instituting measures to contain the disease, including banning the selling of meat and fish by vendors and suspending classes at some of the schools in the affected areas.
"We are declaring an emergency for Harare. This will enable us to contain cholera, typhoid and whatever is going on. We don't want any further deaths," Moyo said after touring a hospital treating patients in the capital.
He said the outbreak occurred as a result of burst sewer pipes that contaminated borehole water and open wells that are used by residents.
Most residents in the city's high density suburbs rely on water from community boreholes and open wells due to intermittent potable water supplies from the council.
Moyo said government had requested for help from United Nations agencies and private companies to supply safe water to residents in the affected areas.
Zimbabwe last recorded its worst cholera outbreak in 2008 which killed more than 4,000 people and infected close to 100,000 people. Enditem