Egypt's Sisi says national projects carried out by civil companies, not army
2019-05-06 02:26:20 GMT
2019-05-06 10:26:20(Beijing Time)
Xinhua English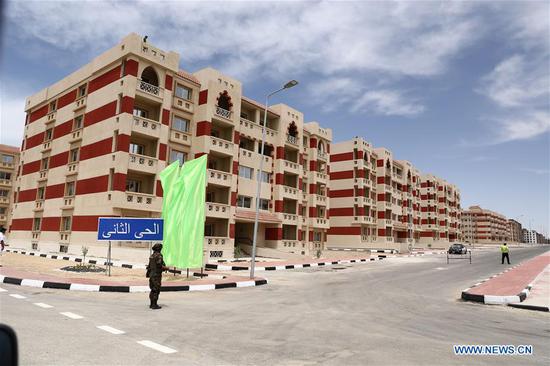 The photo taken on May 5, 2019 shows a general view of Ismailia New City in Ismailia, Egypt. Egyptian President Abdel-Fattah al-Sisi said on Sunday that all companies working on the country's national development projects are run by civilians, stressing that the military's role is only supervisory. (Xinhua/Ahmed Gomaa)
CAIRO, May 5 (Xinhua) -- Egyptian President Abdel-Fattah al-Sisi said on Sunday that all companies working on the country's national development projects are civilian companies, stressing that the military's role is only supervisory.
"The role of the army in such projects, if any, is a supervisory and management role," Sisi said in a speech during a ceremony in the Suez Canal city of Ismailia to inaugurate a number of development projects in the canal cities and the bordering Sinai region.
The projects include Suez Canal Tunnels, Ismailia New City, a new drinking water station in New Ismailia, a new Corniche of Fisherman's Lake, tourist walkway on the same lake, new developed fish market, project of traffic axes, the floating Sarabium bridge in Ismailia, and bridge in Suez.
The military, Sisi said, is mainly seeking to ensure commitment to deadlines set for key projects pursuant to the country's strategic development plans, according to state-run Ahram Online news website.
"We wanted to have one supervisory authority to ensure projects are achieved by certain times," he added.
Egyptian military's economic activities appear to have expanded over the past years, varying from supplying food commodities, producing various goods to carrying out construction projects.
Sisi stressed that security and stability are key for Egypt's development.
Over the past few years, Egypt has been struggling to overcome an economic recession resulting from political turmoil and relevant security challenges, which led the country in late 2016 to start a strict three-year economic reform program.
The program includes austerity measures, energy subsidy cuts and tax increases, in addition to local currency floatation to contain U.S. dollar shortage.
Despite causing price hikes and high inflation rates, the liberalization of the Egyptian pound's exchange rate encouraged the International Monetary Fund (IMF) to support Egypt's reform plan by providing a 12-billion-U.S. dollar loan.
Last year, the Center for International Development at Harvard University ranked Egypt as the world's third fastest growing economy in the coming decade after India and Uganda.
Egypt also achieved a high growth of 5.3 percent in the 2017-18 fiscal year, which runs from the beginning of July to the end of June.