Egypt inaugurates world's widest suspension bridge
2019-05-16 03:02:04 GMT
2019-05-16 11:02:04(Beijing Time)
Xinhua English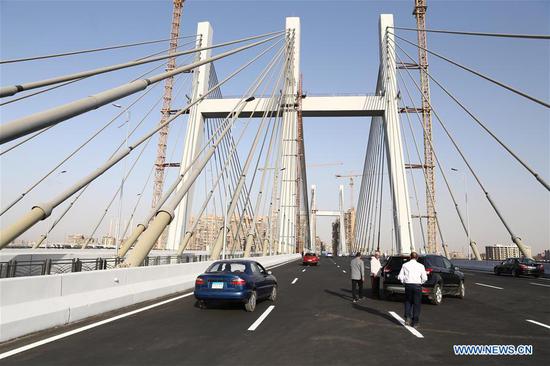 Vehicles are seen on Rod al-Farag Axis Bridge in Cairo, Egypt, on May 15, 2019. Egyptian President Abdel Fattah al-Sisi attended on Wednesday the opening of Rod al-Farag Axis Bridge, the widest suspension bridge in the world, state-run Nile TV reported. (Xinhua/Ahmed Gomaa)
CAIRO, May 15 (Xinhua) -- Egyptian President Abdel Fattah al-Sisi attended on Wednesday the opening of Rod al-Farag Axis Bridge, the widest suspension bridge in the world, state-run Nile TV reported.
"Egypt is seeking to carry out public projects in the shortest possible time to save money and effort," al-Sisi said in his address at the inauguration ceremony.
The construction of the bridge was implemented by the Armed Forces Engineering Authority (AFEA) in cooperation with a number of national companies.
"The basic cost of this project reached 170 billion Egyptian pounds (9.94 billion U.S. dollars)," said Ihab Alphar, chairman of the AFEA.
However, if this project was to be implemented at the present time, it would cost about 23 billion dollars given the variation in the value of the Egyptian pound, he added.
"The bridge that links areas in northern and eastern Cairo with western Cairo is meant to streamline traffic and reduce commuting time," the AFEA chairman noted.
Divided into five parts, the Rod al-Farag Axis Bridge is 16.7 km long with some 4,000 engineers, technicians, and workers participating in its construction.
Mohamed Mohsen Salah, board chairman of Arab Contractors Company, said the mega projects in Egypt over the past five years have helped secure millions of jobs and lay out a new development map for the country.
The axis bridge, which passes over the Nile River, enters Guinness World Records for being the widest flyover in the world at a width of 64.7 meters, said Talal Omar, regional director for the Guinness World Records in the Middle East and North Africa region.