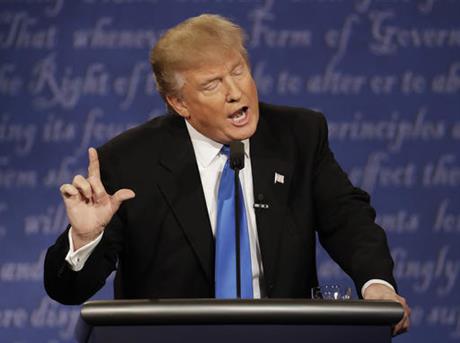 Republican presidential nominee Donald Trump speaks during the presidential debate Democratic presidential nominee Hillary Clinton at Hofstra University in Hempstead, N.Y., Monday, Sept. 26, 2016. (AP Photo/Patrick Semansky)
The Latest on the first of three presidential debates between Democrat Hillary Clinton and Republican Donald Trump (all times EDT):
9:30 p.m.
Donald Trump is blaming Hillary Clinton for what he says have been "defective" trade agreements that have cost American jobs.
Trump says Mexico taxes American products imported there, but the U.S. does not tax Mexican imports.
He says Clinton's been "doing this for 30 years," a reference to her long career on the American political scene.
During that time, she's been first lady, senator from New York and secretary of state. Those are not jobs that would give her a primary role in crafting trade agreements.
Trump also criticized the North American Free Trade Agreement, which was approved under President Bill Clinton, Mrs. Clinton's husband.
The nonpartisan Congressional Research Service has said that 1994 deal had a "relatively small" impact on the U.S. economy.
___
9:27 p.m.
Donald Trump claims he never said climate change was a "hoax" created by the Chinese.
But he did.
Trump tweeted in January 2014 that, "Snowing in Texas and Louisiana, record setting freezing temperatures throughout the country and beyond. Global warming is an expensive hoax!"
In November, 2012, he said, "The concept of global warming was created by and for the Chinese in order to make U.S. manufacturing non-competitive."
His Democratic rival Hillary Clinton made the charge during Monday night.
Trump is a denier of climate science.
___
9:25 p.m.
Donald Trump has the sniffles.
Trump's loud sniffing in the opening minutes of Monday's first presidential debate with Hillary Clinton is getting plenty of attention on social media. Some are comparing it to Al Gore's sighing from the 2000 presidential debate. The noticeable sniffing, or loud breathing, is generating hashtags like #trumpsniff on Twitter.
Much attention has been focused on both candidates' health going into the debate following Clinton's pneumonia diagnosis last month. Both candidates have since released details about their health history.
___
9:22 p.m.
Donald Trump says he wants Hillary Clinton to be happy.
Clinton referred to Trump as "Donald" in their first face-to-to-face debate. Trump hesitated before referring to the Democratic nominee as "Secretary Clinton."
"Is that OK?" Trump asked. "I want you to be very happy."
Clinton is the former secretary of state. Trump has never held public office so he has no formal honorific title.
___
9:20 p.m.
Hillary Clinton is asking American voters to decide whether she or Donald Trump can "make your life better."
The Democratic nominee opened the first presidential debate pitching her economic policies as the best way to help most voters. She added that voters should use the first of three debates to assess "who can shoulder the immense, awesome responsibilities of the presidency" and who can "put into action" their plans.
She did not use the argument to attack Trump. She said only, "Donald, it's good to be with you."
___
9:18 p.m.
Hillary Clinton is criticizing Donald Trump early in the presidential debate over a loan he got from his father to start his business career. The Democratic presidential candidate is calling her Republican rival's tax cut proposals "Trumped-up trickle-down" economics.
Clinton says Trump "really believes the more you help wealthy people, the better off we'll be." She also referenced a million-dollar loan Trump got from his father decades ago.
Clinton criticized her opponent's aggressive stance on trade, saying the U.S. is "5 percent of the world population" and that means having to trade with the other 95 percent of the world.
___
9:15 p.m.
Donald Trump is kicking off the debate touting his plan to create jobs and claiming that Mexico and other countries are "stealing them."
Trump says, "Our jobs are fleeing the country, they're going to Mexico and many other countries."
He says, "We have to stop our jobs from being stolen from us" and is claiming that Mexico's factory building is like "the 8th wonder of the world."
He's calling for renegotiating U.S. trade deals and says job creation will flourish under a Trump administration because of his plans to lower taxes and scale back regulations.
___
9:10 p.m.
Hillary Clinton is fielding the first debate question from moderator Lester Holt, who asked about her plan to create better jobs for American workers.
Clinton, the first woman to participate in a general election debate, first noted that it was her granddaughter Charlotte's second birthday and launched into her standard campaign promise to fight for fair pay for female workers and to increase taxes on the wealthy.
__
9:05 p.m.
The first presidential debate between Democrat Hillary Clinton and Republican Donald Trump is under way. Clinton was heard asking, "How are you, Donald?" as they took the stage.
Clinton is taking the first question.
___
9 p.m.
Police on Long Island say about 2,000 protesters have gathered outside the scene of the first presidential debate between Hillary Clinton and Donald Trump.
Some of the diverse groups protesting Monday night's showdown at Hofstra University include Hardhats for Hillary, socialists and activists calling for a living wage. The protesters have been confined to an area several blocks long.
Nassau County police say 24 people have been arrested on mostly disorderly conduct charges. Police gave no other details on the arrests.
___
8:50 p.m.
Former President Bill Clinton and Melania Trump shook hands as they were seated in the front row to watch Hillary Clinton debate Donald Trump in the first presidential debate at Hofstra University on Long Island. The two are seated with their families as the debate begins.
___
8:50 p.m.
The presidential candidates have arrived at Hofstra University in New York and are moments away from their first face-to-face debate.
Democrat Hillary Clinton and Republican Donald Trump each entered the debate hall on suburban Long Island within the hour of the debate's start.
The stakes are high. Clinton and Trump are close in the polls and the debate kicks off the final, six-week sprint of the general election. The two candidates are slated to square off for two more debates next month, while their running mates, Tim Kaine and Mike Pence, are set to meet next week.
The debate will be moderated by Lester Holt of NBC News.
Pence, Rudy Giuliani, Chuck Schumer, Don King, Bobby Knight and Mark Cuban are among the invited guests in the audience.
___
8:30 p.m.
Some unconventional supporters of the presidential candidates are packing the spin room where reporters are awaiting the first debate of the general election.
They include a trio of sports figures: Eccentric boxing promoter Don King, dressed in a bedazzled denim jacket, former Indiana basketball coach Bobby Knight and billionaire Dallas Mavericks owner Cuban.
Also working the room is Trump's running mate Mike Pence. He's being followed by a pack of reporters as he crisscrosses the media filing center doing interviews.
Cuban tells reporters he's not sure where he'll be sitting in the debate hall. But the Hillary Clinton supporter says he knows why he's backing the former secretary of state.
He says with Trump, "There's just too many uncertainties" and "we don't know where he stands in terms of the balance of power in the world."