Suspect in kidnapping of Chinese scholar faces potential death penalty
2017-10-04 06:43:55 GMT
2017-10-04 14:43:55(Beijing Time)
Xinhua English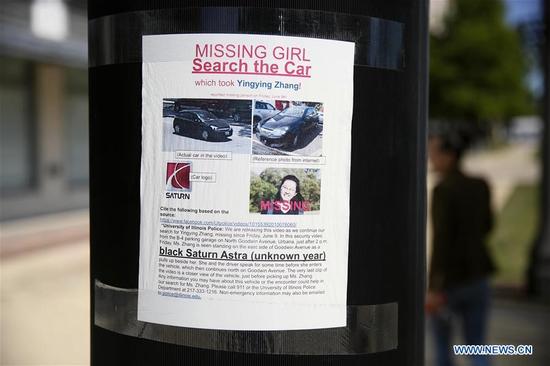 File photo: Photo taken on July 1, 2017 shows a poster about Yingying Zhang in the place where she was kidnapped by the suspect in Champaign, Illinois, the United States. The University of Illinois at Urbana-Champaign (UIUC) visiting Chinese scholar Zhang Yingying, who was kidnapped on June 9, is feared dead. FBI arrested 28-year-old Brendt Christensen Friday on criminal complaint that charges him for kidnapping Zhang on June 9, 2017. (Xinhua/Wang Ping)
CHICAGO, Oct. 3 (Xinhua) -- A federal grand jury charged Brendt A. Christensen, the suspect in the kidnapping of visiting Chinese scholar Zhang Yingying, with kidnapping resulting in death on Tuesday.
If convicted, Christensen could face mandatory life in prison or even the death penalty, according to a news release by the Justice Department.
In the four-page indictment obtained by Xinhua, the grand jury said Christensen committed the offense "in an especially heinous, cruel or depraved manner," noting that he did it "after substantial planning and premeditation to cause the death of a person."
Christensen was previously charged with kidnapping Zhang on June 9. The superseding indictment by the federal grand jury adds the charge that Christensen's kidnapping resulted in Zhang's death.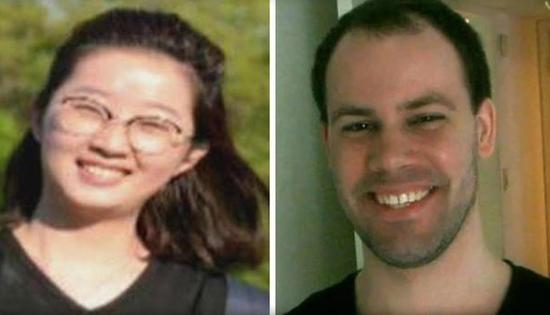 Yingying Zhang, left, and Brent Christensen
Christensen was also charged with two counts of making false statements to Federal Bureau of Investigation (FBI) agents, which could result in five years in prison on each charge if convicted.
Various activities held around China during National Day holiday
Flag at half mast to mourn victims of Las Vegas shooting at Times Square
Syrian army separates IS-held areas between Hama, Homs provinces
Military exercise "Udar 17" held in Croatia
Amazing scenery of Dahuabei forest in China's Inner Mongolia
Autumn scenery of golden populus diversifolia trees in China's Xinjiang
British Royal Air Force aerobatic team performs in Doha
In pics: Breitling Huntington Beach Airshow in California