Plane crash in Costa Rica kills 12
2018-01-02 03:21:11 GMT
2018-01-02 11:21:11(Beijing Time)
Sina English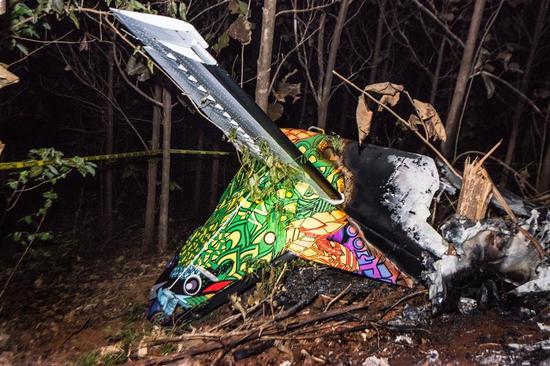 The tail of the burned fuselage of a small plane that crashed is seen in Guanacaste, Corozalito, Costa Rica on December 31, 2017. Ten Americans flying from a vacation hotspot on Costa Rica's tropical Pacific coast died when the small plane they had just boarded crashed and burst into flames shortly after take-off, officials in the country said.
A Costa Rican plane crashed into woodland off a popular tourist beach on Sunday, killing 10 US citizens and two local pilots, the Costa Rican government said.
The accident occurred in the mountainous area off the Punta Islita beach town in the province of Guanacaste, about 230km west of the capital of San Jose.
Enio Cubillo, director of Costa Rica's civil aviation agency, said the Cessna 208B Grand Caravan aircraft operated by local company Nature Air had crashed minutes after takeoff, but that officials had not yet determined the cause of the crash.
The plane had passed a safety inspection about a month ago and was authorized to fly, Cubillo said. Although strong winds in the morning had forced the pilots to alter their itinerary, they had flown safely to Punto Islita to pick up passengers headed to San Jose.
Nature Air said in a statement that it lamented the accident, without explaining the cause.
The flight was part of a special charter service for 20 people, relying on two planes. The first plane, carrying 10 passengers, arrived safely in San Jose at 11:40am. The second, with 10 passengers and two pilots, departed 20 minutes later.
"Regrettably this plane crashed a few minutes after taking off," Nature Air said.
A video of the crash site obtained from Costa Rica's Security Ministry shows orange flames consuming a pile of blackened ruins, with plane parts scattered in an area thick with trees.
(Agencies)