Protesters rally against Guantanamo Bay detention camp in Washington DC
2018-01-12 01:26:42 GMT
2018-01-12 09:26:42(Beijing Time)
Xinhua English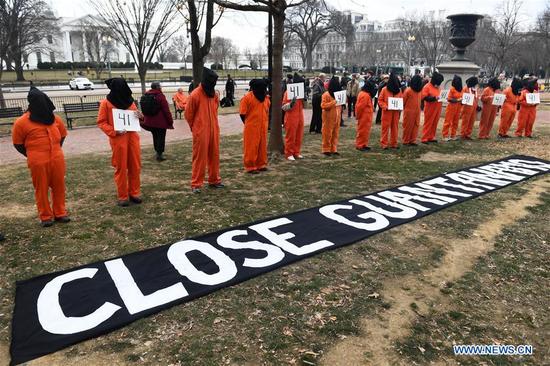 Protesters dressed as detainees of the Guantanamo Bay detention camp rally to demand the closing of the Guantanamo Bay detention camp outside the White House in Washington D.C., the United States, on Jan. 11, 2018. Dozens of Activists held a rally here on Thursday to protest against the Guantanamo Bay detention camp while urging an end to "indefinite detention." (Xinhua/Yin Bogu)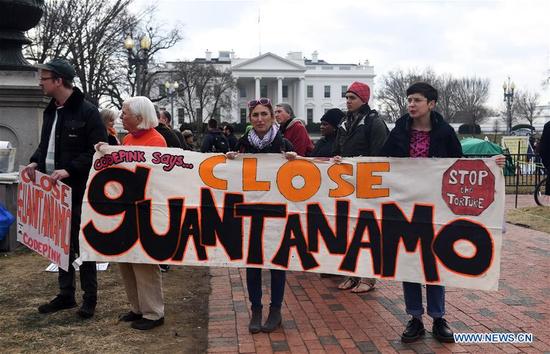 Protesters rally to demand the closing of the Guantanamo Bay detention camp outside the White House in Washington D.C., the United States, on Jan. 11, 2018. Dozens of Activists held a rally here on Thursday to protest against the Guantanamo Bay detention camp while urging an end to "indefinite detention." (Xinhua/Yin Bogu)
WASHINGTON, Jan. 11 (Xinhua) -- Dozens of Activists held a rallyhere on Thursday to protest against the Guantanamo Bay detentioncamp while urging an end to "indefinite detention."
At Lafayette Square in front of the White House, some protesterswere wearing orange jumpsuits and bags over their heads as otherswere holding banners that carry slogans urging the closure of theprison and an end to indefinite detention.
Their protests marked the 16th anniversary of the firstprisoners arriving at the U.S. facility, set up on the GuantanamoBay Naval Base in southeast Cuba in 2002 as part of the U.S. war onterror.
Former President Barack Obama tried to close the facility, butthwarted by Congress. Forty-one prisoners remain in detention.
Late last month, U.S. Defense Secretary James Mattis visited theGuantanamo Bay Naval Base to meet troops, but he did not tour thedetention camp.
It was the first trip to the base by a sitting Pentagon chief inalmost 16 years since Donald Rumsfeld visited Guantanamo in early2002. Enditem