UN chief: now is time for gender equality
2018-03-09 01:40:44 GMT
2018-03-09 09:40:44(Beijing Time)
Xinhua English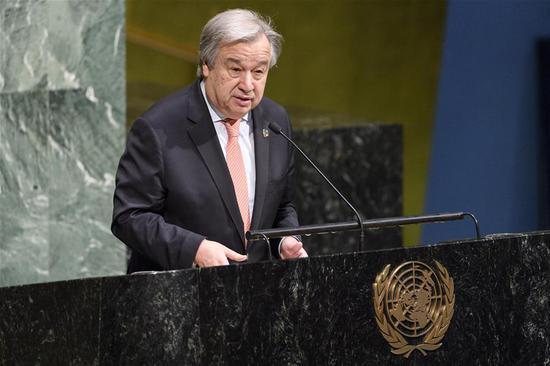 United Nations Secretary-General Antonio Guterres addresses an observance of International Women's Day under the theme "Time Is Now: Rural and urban activists transforming women's lives" at UN headquarters in New York, March 8, 2018. UN Secretary-General Antonio Guterres on Thursday called for action to empower women and girls on the occasion of International Women's Day. (Xinhua/UN Photo/Manuel Elias)
UNITED NATIONS, March 8 (Xinhua) -- UN Secretary-General Antonio Guterres on Thursday called for action to empower women and girls on the occasion of International Women's Day.
"Everywhere, women are saying 'The Time is Now.' Time for equality and opportunity, respect and equal representation. Time for an end to violence. Around the world, women and girls are calling out the abusive behavior and discriminatory attitudes they face everywhere and all the time. They are insisting on lasting change," Guterres told an event at UN Headquarters to mark International Women's Day.
"This is what women and girls want. And that is what I want. And it is what every sensible man and boy should want," he said.
Gender equality is a fundamental human right and there is no better path to a more peaceful and prosperous world than the empowerment of women and girls, said the UN chief.
"Power is at the heart of the matter. As we still live in a male-dominated world with male-dominated culture and until power is fairly shared, the world will remain out of balance."
There is overwhelming evidence that investing in women is the most effective way to lift communities, companies and countries. Women's participation makes peace agreements stronger, societies more resilient and economies more vigorous, he said.
"Gender equality is the unfinished business of our time. And so the time is now to change it," said Guterres.
Significant advances have taken place since the first International Women's Day in 1976, he said. But structural barriers remain: unpaid care work, unequal pay, harmful stereotypes, discrimination and violence.
He pledged his determination to achieve gender parity throughout the United Nations.
For the first time ever, gender parity has become reality in the senior UN management team -- the top level of this organization, he said, adding that the world body is very close to reach gender equality among leaders of UN country teams around the world.
He reiterated his commitment to zero tolerance of sexual harassment.
"I am improving reporting and accountability and trying to establish confidence, empower people who experience or witness harassment to come forward and seek justice."