School violence remembered as thousands of shoes placed before U.S. Congress
2018-03-14 02:53:14 GMT
2018-03-14 10:53:14(Beijing Time)
Xinhua English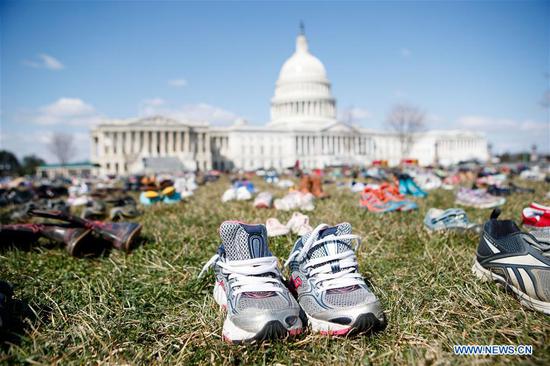 Shoes representing the children killed in school shootings since Sandy Hook Elementary School shooting in 2012 are seen on the lawn in front of the Capitol in Washington D.C., the United States, on March 13, 2018. An activist group on Tuesday placed 7,000 pairs of shoes on the lawn in front of U.S. Congress, in protest against lawmakers' inaction in face of frequent school shootings in the country. (Xinhua/Ting Shen)
WASHINGTON, March 13 (Xinhua) -- An activist group on Tuesdayplaced 7,000 pairs of shoes on the lawn in front of U.S. Congress,in protest against lawmakers' inaction in face of frequent schoolshootings in the country.
The shoes represent every child who was killed in schoolshootings since Sandy Hook Elementary School shooting in 2012,according to the group Avaaz.
"Avaaz will bring the heartbreak of gun violence to Congress'doorstep," it said in a statement, adding that guns kill over 1,300kids a year in the United States.
The shoes, which came from family members of victims,celebrities and citizens across the country, were placed earlyTuesday morning and are expected to stay until late afternoon, thegroup said.
The shoes, including sandals, boots, dance shoes, sneakers, highheels, were placed in neat rows, creating a temporary monument forthe deceased.
The protest was the latest movement from activists groups tocall on lawmakers to take steps to curb rampant shooting incidentsin U.S. schools.
A 19-year-old with a semi-automatic rifle killed 17 people at ahigh school in Florida on Feb. 14, sparking rage among parents,students and educators.
The Trump administration has directed that tighter backgroundchecks, better mental health care and tougher security at schoolsbe implemented, proposing arming school staff to protectstudents.
But the idea has drew condemnation from educators, who saidschools will be less safe, not more, with more guns around.
President Donald Trump's support for raising the minimum age tobuy guns was called into question Monday, but the White House saida commission headed by the Education Secretary Betsy DeVos wouldform a report and make recommendations. Enditem