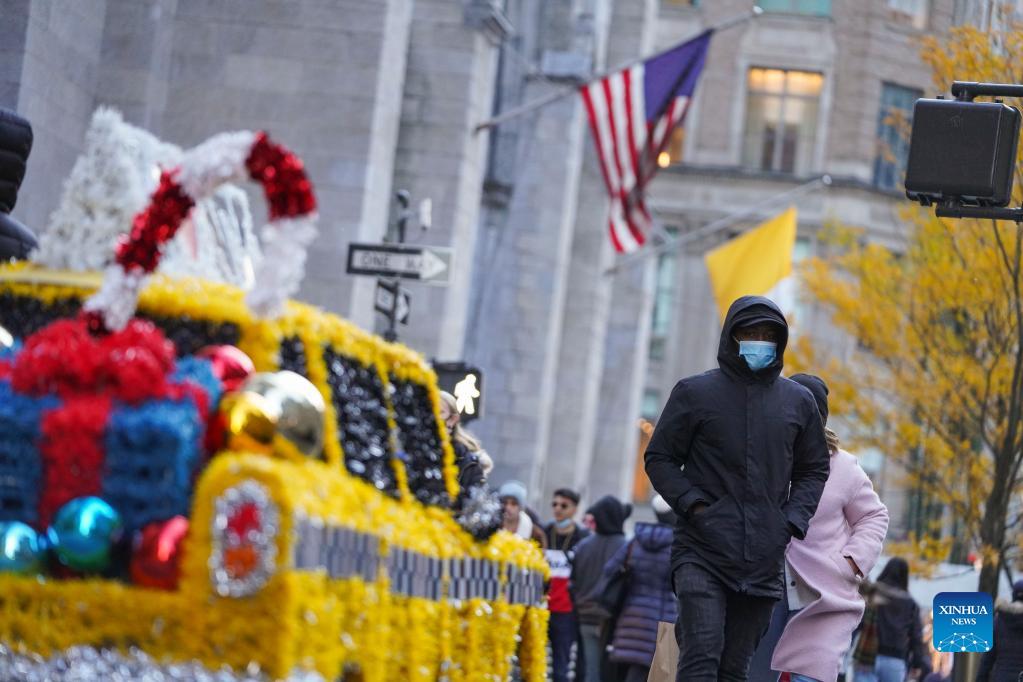 Pedestrians walk by a holiday installation on a street in New York, the United States, Nov. 23, 2021. The seven-day average of reported COVID-19 infections in the United States has increased by 18 percent, said U.S. Centers for Disease Control and Prevention Director Rochelle Walensky on Monday. The latest seven-day average of cases is 92,800 per day, an 18 percent surge from last week and hospitalization rates have increased 6 percent with a daily average of 5,600, Walensky said at a White House briefing. (Xinhua/Wang Ying)
by Yang Shilong, Matthew Rusling
WASHINGTON, Nov. 25 (Xinhua) -- Just ahead of the Thanksgiving holiday, Denver, capital city of Colorado, and neighboring counties reimposed a COVID-19 mask mandate in an effort to combat a resurgence of the virus in the western U.S. state.
The new order, which went into effect on Wednesday and will continue through Jan. 3, 2022, requires face coverings for local businesses and other indoor public spaces except venues that check vaccine cards at the door.
The "vax or mask mandate" will keep Denverites safe, especially as the holidays approach and more people travel to the city, said Mayor Michael B. Hancock at a news conference while announcing the order on Tuesday.
"Let me be clear -- we're not here because what we've done in Denver and the region hasn't worked. Quite the opposite," he said. "If other communities in Colorado and around the country took the affirmative steps we have taken around vaccines, the pandemic would be under control."
Denver's vaccination rate is "stellar" with just under 70 percent of all Denverites fully vaccinated against COVID-19 and 76 percent having had at least one dose, Hancock said. But other parts of the state do not have as high a rate, and hospitalized unvaccinated people are putting stress on hospital systems statewide.
As of Tuesday morning, 1,565 people are in Colorado hospitals with COVID-19. Of those, 83 percent are unvaccinated. In hospitals statewide, 95 percent of intensive care unit (ICU) beds are in use. The seven-day average of beds in use is 94 percent, according to data from the the Colorado Department of Public Health and Environment.
HOPE FOR A NORMAL HOLIDAY
After 20 tumultuous months, Americans hope their second Thanksgiving since the pandemic outbreak in the country could become a normal one.
Cassie Barton, an accountant in her 60s in the U.S. state of Pennsylvania, locked herself in the house last Thanksgiving. She celebrated the holiday with a video chat with her daughter and two grandchildren as COVID-19 has been spreading around the world at a rapid clip.
Now that she and everyone she knows have been vaccinated, she plans to attend a large family get-together on Thanksgiving this year.
Erica Wood, a manager in her 40s at a mid-size company outside Washington, D.C., is having a few friends over this Thanksgiving. "It's different this year," she said.
According to a recent poll from Monmouth University, two-thirds of Americans said this year's Thanksgiving gatherings will look like those before the pandemic.
Sixty-three percent said they will celebrate the holiday with the same number of people they did in pre-pandemic days, and 5 percent said there will be even more people coming to their Thanksgivings this year than before the virus outbreak.
In 2020, at the height of the pandemic, only 46 percent said their Thanksgiving would include the same number of people as in pre-pandemic days, the poll found.
The Transportation Security Administration is expected to screen nearly as many people this week as it did during the same period in 2019.
COMMUNITY TRANSMISSION REMAINS HIGH
Yet, many U.S. public health officials and experts share the Denver mayor's concern about another possible winter COVID-19 surge partially fueled by indoor holiday gatherings as the level of community transmission in most of the country remains high.
The latest seven-day average of cases is 92,800 per day, an 18-percent surge from last week, and hospitalization rates have increased 6 percent with a daily average of 5,600, Centers for Disease Control and Prevention (CDC) Director Rochelle Walensky said Monday.
"The big difference between now and our conversation one year ago is what you yourself mentioned, and that is the vaccines. That's the really good news," said U.S. top infectious diseases expert Anthony Fauci in an interview with The New York Times.
It is unambiguous that someone who is vaccinated has a much higher likelihood of being protected against infection, hospitalization and death compared to a very vulnerable, unvaccinated person, he said, adding the "sobering news" is that over time, usually measured in several months, immunity wanes.
"We have vaccinations. We have people who don't want to get vaccinated, which is really very unfortunate," Fauci told MSNBC on Tuesday.
The unvaccinated continue to drive the pandemic in the United States, Walensky said. About 47 million eligible American adults and 12 million eligible teens are still not vaccinated.
According to the most up-to-date information on the CDC data tracker, unvaccinated people are six times more likely to test positive for the virus, nine times more likely to be hospitalized, and 14 times more likely to die.
"There is concern that the rate of infection spreading is already so high as we head into the holiday season," said Amber D'Souza, an epidemiologist at the Johns Hopkins Bloomberg School of Public Health, told U.S. news portal The Hill in an interview. "We're definitely headed into our next surge."
According to a tally from John Hopkins University, as of Wednesday afternoon, the U.S. death toll from COVID-19 was 775,369, meaning that deaths registered in 2021 surpassed the 385,000-odd COVID-19 deaths recorded in 2020. Enditem