US pledges nuclear defence for Japan and South Korea
2017-02-17 00:01:20 GMT
2017-02-17 08:01:20(Beijing Time)
Agencies
US Secretary of State Rex Tillerson on Thursday pledged that Washington would use the full range of its arsenal, including nuclear weapons, to defend allies Japan and South Korea if needed.
"The United States remains steadfast in its defence commitments to its allies, the Republic of Korea and Japan, including the commitment to provide extended deterrence, backed by the full range of its nuclear and conventional defence capabilities," Tillerson said in a joint statement after meeting the foreign ministers in Bonn.
North Korea has carried out repeated missile launches despite UN sanctions and last year conducted two nuclear tests in a bid to develop a weapons system capable of hitting the US mainland.
Pyongyang said the latest missile tested on Sunday could carry a nuclear warhead.
Seoul said the rocket travelled some 500 kilometres before it came down in the Sea of Japan (East Sea).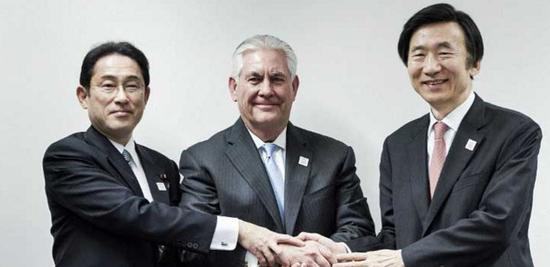 Japan's Foreign Minister Fumio Kishida (L), US Secretary of State Rex Tillerson (C) and South Korean Foreign Minister Yun Byung-se (R) shake hands before a meeting at the World Conference Centre in Bonn, Germany. (Brendan Smialowski/AFP)
The joint statement said Tillerson, South Korea's Yun Byung-Se and Japan's Fumio Kishida "condemned in the strongest terms" the test which was carried out in "flagrant disregard" for multiple UN Security Council resolutions.
The three countries would work together to ensure that further violations would be "met with an even stronger international response," it said, demanding that Pyongyang abandon its nuclear and missile programmes.
Shortly after the missile test, President Donald Trump said North Korea was a "a big, big problem ... and we will deal with that very strongly."
Earlier this month on a trip to Seoul and Tokyo, US Defence Secretary James Mattis warned that "any use of nuclear weapons would be met with a response that would be effective and overwhelming."
The United States has had a major military presence in both Japan and South Korea for decades but its defence commitment also complicates relations with China.