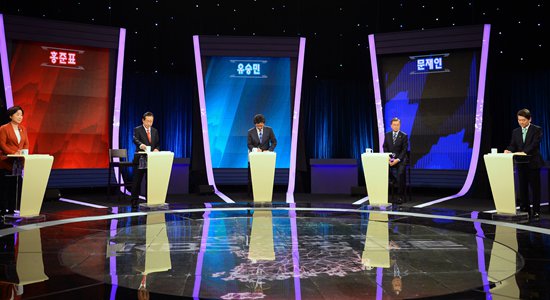 South Korean presidential candidates (from left) Sim Sang-jung, Hong Joon-pyo, Yoo Seung-min, Moon Jae-in and Ahn Cheol-soo participate in a TV debate for the May 9 election on Wednesday in Seoul. Photo: CFP
When South Korea fills a presidential vacuum next month, analysts say the first order of business for its new leader will be to tame Donald Trump's aggressive approach toward the nuclear-armed North.
The impeachment of former president Park Geun-hye - who took a hard line on North Korea - forced her out of Seoul's Blue House, giving the White House free rein in a crisis over ­Pyongyang's weapons program.
Trump has told North Korean leader Kim Jong-un that he's "gotta behave" while US officials have repeatedly warned that "all options are on the table," prompting dire threats of retaliation.
The North has made progress toward its goal of developing a missile capable of delivering a warhead to the US mainland, and speculation has mounted that it could conduct another nuclear test.
But in the South Korean race to succeed the now detained Park, both frontrunners, Moon Jae-in of the main opposition Democratic Party and his only serious challenger Ahn Cheol-soo, are urging Trump to cool his position.
"Currently, South Korea has no president and its voice in the crucial security issue on the Korean ­Peninsula has simply not been heard," said Hong Hyun-ik, senior researcher at the private Sejong Institute.
"But when the next president comes in after the May 9 election, he would urge Washington to coordinate closely with Seoul in talking about things such as preemptive strikes against the North," he said.
Seoul National University ­political science professor Kang Won-taek added that whoever wins, they will pursue dialogue with the North more actively than Park, and "seek to put a damper on harsh US rhetoric."
'Alarmist stories'
The North has vast artillery forces deployed within striking range of Seoul, putting the South Korean capital at direct risk of catastrophe if a conflict erupts, even without the use of atomic weapons.
Washington has a treaty alliance with Seoul and has more than 37,500 troops in the South to defend it from its neighbor.
It also announced the deployment of the aircraft carrier USS Carl Vinson and its battle group to the Korean Peninsula - described by Trump as an "armada" - although it turned out on Wednesday to still be thousands of kilometers away.
But despite headlines worldwide about crisis and the threat of war, South Koreans have remained calm.
They have become accustomed to the North's threats, which ramp up every spring when Seoul and ­Washington hold joint military exercises it condemns as ­rehearsals for invasion.
And an atomic test would be the sixth by ­Pyongyang, which says it needs ­nuclear weapons to defend itself against the threat of invasion.
Rather than relations with the North, the election campaign has been dominated by domestic ­issues including slow growth, youth ­unemployment and the powers of
the country's family-led conglomerates.
In recent years, South Korean news outlets have been "falling over themselves to put out ­alarmist stories" over the North's nuclear ­development, commentator Kim Kap-soo told a television talk show on Wednesday.
"But this time, there seems to be an implicit agreement not to stir up this crisis."
Say 'No' to the US
Pro-US conservatives have ruled the Republic of Korea - which was devastated by the 1950-53 Korean War - for 57 of its 68 years.
But an opposition victory in the May 9 vote is a foregone conclusion in the wake of the sprawling ­corruption scandal that brought Park down.
Left-leaning, Moon had 44.8 percent support in a recent Realmeter poll, with Ahn of the center-left People's Party, an IT tycoon-turned-politician, in second with 31.3 percent.
In a book published earlier this year Moon said the South should learn to say "No" to Washington. He was once chief of staff to former liberal president Roh Moo-hyun, who sought "fairer and balanced" ties with the US.
Moon insists the US should not carry out any military action on the peninsula "without prior consent from South Korea," and has also
said that as president, he would be willing to visit Pyongyang to defuse tensions.
He supports continued sanctions on the North, but has changed his position on the deployment of the US missile defense system THAAD in the South, which has infuriated China.
Analysts have suggested that Washington and the outgoing ­government have sought to bring ­forward THAAD's arrival to present the new leader with a fait accompli.
Ahn, who describes himself as a fellow Wharton School alumnus of Trump's, said he would tell the US president that there must be no war under any circumstances.
He backs THAAD and, like Moon, supports negotiations with Pyongyang, saying, "While continuing with sanctions against the North, I would pursue dialogue for reconciliation, openness and reunification."