Global navies, warships gather in Singapore for defense show
2019-05-15 03:23:02 GMT
2019-05-15 11:23:02(Beijing Time)
Xinhua English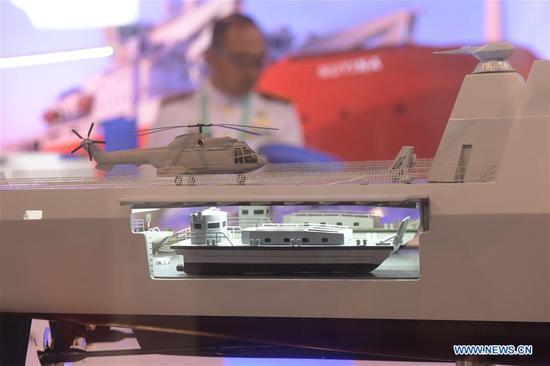 Exhibits are displayed at the 12th International Maritime Defense Exhibition and Conference (IMDEX Asia) in Singapore's Changi Exhibition Centre May 14, 2019. Singapore Defense Minister Ng Eng Hen welcomed here Tuesday foreign navies attending the 12th International Maritime Defense Exhibition and Conference (IMDEX Asia) at its opening ceremony. A total of 23 warships from 15 countries sailed their way to IMDEX Asia at the Changi Naval Base, together with 26 chiefs of defense forces and navies, vice chiefs, directors-general of coast guards and senior naval officers. (Xinhua/Then Chih Wey)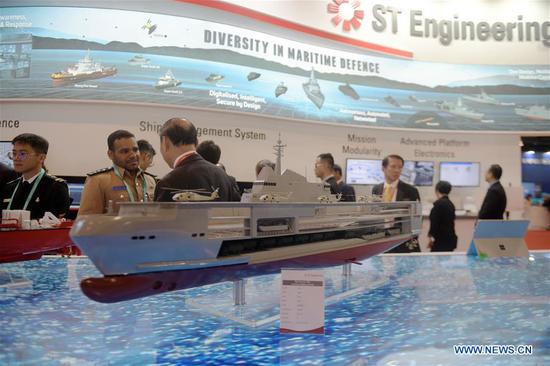 Visitors view exhibits at the 12th International Maritime Defense Exhibition and Conference (IMDEX Asia) in Singapore's Changi Exhibition Centre May 14, 2019. Singapore Defense Minister Ng Eng Hen welcomed here Tuesday foreign navies attending the 12th International Maritime Defense Exhibition and Conference (IMDEX Asia) at its opening ceremony. A total of 23 warships from 15 countries sailed their way to IMDEX Asia at the Changi Naval Base, together with 26 chiefs of defense forces and navies, vice chiefs, directors-general of coast guards and senior naval officers. (Xinhua/Then Chih Wey)
SINGAPORE, May 14 (Xinhua) -- Singapore Defense Minister Ng Eng Hen welcomed here Tuesday foreign navies attending the 12th International Maritime Defense Exhibition and Conference (IMDEX Asia) at its opening ceremony.
A total of 23 warships from 15 countries sailed their way to IMDEX Asia at the Changi Naval Base, together with 26 chiefs of defense forces and navies, vice chiefs, directors-general of coast guards and senior naval officers.
IMDEX Asia also attracted 236 participating companies from 30 countries to showcase their latest products and technologies at the Changi Exhibition Center.
In addition, the 6th International Maritime Security Conference will be held Wednesday, where over 400 delegates from the naval defense sector gathering for discussions to better mutual understanding and collaboration in Asia-Pacific.
Ng noted in his speech that IMDEX Asia is more than an exhibition, it also serves as an important platform for exchanges among its participants. Given the importance of trade across the sea, he called on concerted efforts in safeguarding regional maritime security.
IMDEX Asia 2019 will also introduce the Maritime Campus, which is designed to be a platform to groom the next generation of talents by showcasing higher education opportunities and careers in the maritime and naval industries. Some 1,000 students from Singapore's 13 secondary and tertiary institutions, as well as full-time national servicemen would be the attendees.
The biennial event was organized by Experia Events Pte Ltd and will run until Thursday.