Japan confirms first death of person with new coronavirus
2020-02-14 04:07:46 GMT
2020-02-14 12:07:46(Beijing Time)
Sina English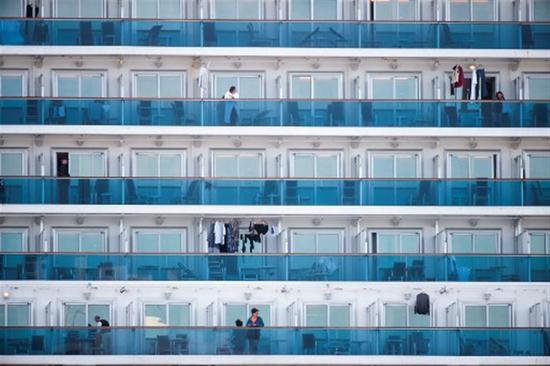 Passengers are seen on the balconies of the Diamond Princess cruise ship on February 12, 2020.
Japan on Thursday reported the first death of a person infected with novel coronavirus, as the number of cases on a quarantined cruise ship offshore soared over 200.
The woman in her 80s was tested for the virus after being hospitalised, and was confirmed positive after her death, Health Minister Katsunobu Kato told a news briefing.
However, it was not clear if the virus or other complications had caused her death, Kato warned.
"The relationship between the new coronavirus and the death of the person is still unclear."
In addition to the cases on the ship and a quarantine officer, Japan has confirmed 28 other infections — mostly among evacuees from the Chinese province of Hubei, where the virus emerged.
The Diamond Princess cruise ship off Yokohama has become the single largest cluster of cases outside China, with 218 testing positive for the COVID-19 virus and taken to medical facilities.
(Agencies)