Greek gov't to distribute 1.4 billion euros in one-off welfare handouts in December: PM
2017-11-14 01:45:21 GMT
2017-11-14 09:45:21(Beijing Time)
Xinhua English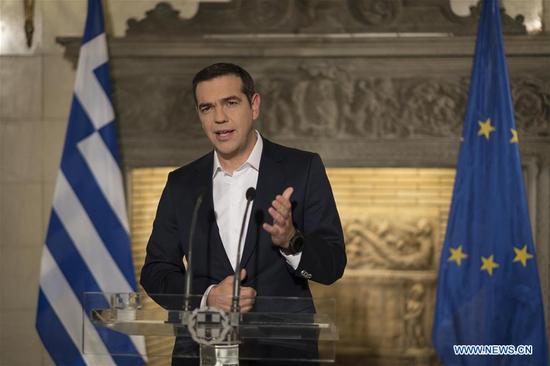 Greek Prime Minister Alexis Tsipras speaks during a televised address in Athens, Capital of Greece, on Nov. 13, 2017. The Greek government will distribute one-off welfare benefits totaling 1.4 billion euros (1.6 billion U.S. dollars) to more than 3.4 million citizens this December, Greek Prime Minister Alexis Tsipras said on Monday in a televised address. (Xinhua/Andrea Bonetti)
by Maria Spiliopoulou
ATHENS, Nov. 13 (Xinhua) --- The Greek government will distribute one-off welfare benefits totaling 1.4 billion euros (1.6 billion U.S. dollars) to more than 3.4 million citizens this December, Greek Prime Minister Alexis Tsipras said on Monday in a televised address.
Greek economy is on the path of recovery and its outperformance now allows the government to give breathing space to more and more citizens, the Greek leader said.
"For a second consecutive year Greek economy has posted remarkably positive results. All indexes are on the rise and it is forecast that for first time after a decade the growth rate will be close to 2 percent of GDP," he noted.
"The primary surplus in the budget is expected to exceed by far the 1.75 percent target set this year," he added.
The amount which will be paid out to beneficiaries next month is more than double than the sum distributed last December (617 million euros) to 1.5 million low income retirees, he noted.
The social groups eligible for the benefits this year are the unemployed, low income pensioners and youth and the amounts which will be distributed will be estimated based on income criteria, assets and family situation, the Greek prime minister said.
The benefits range from 900 euros for families with two children which earn 6,000 euros annually to 250 euros to individuals with no children who earn up to 9,000 euros per year.
The maximum annual income of beneficiaries reaches 18,000 euros under the precondition that their real estate assets' total worth does not exceed 180,000 euros.
Out of the total amount, the 720 million euros will be distributed as an untaxed aid and the relevant bill will be tabled in parliament in coming days.
"The fair distribution of the social dividend reflects our social and political priorities. It is fair and we make it happen," Tsipras stressed in his message.
Last year's surprise declaration for the government's aid plan for low-income pensioners had caused reactions by the country's international lenders who were caught unaware while the second review of the third bailout was still underway.
Despite skepticism, the government insisted that it was within its rights to decide how to spend the amount, since the economy had outperformed the fiscal targets set under the third bailout which expires in mid 2018.
Ahead of the Christmas holidays, pensioners earning less than 850 euros per month received one-off benefits of 300 to 850 euros.
It was not yet clear on Monday night whether Athens had discussed its plan with creditors this time, as the third review of the bailout continues. (1 euro= 1.16 U.S. dollars)