Strongest snowfall in 100 years hits Russia's capital
2018-02-06 03:47:57 GMT
2018-02-06 11:47:57(Beijing Time)
Xinhua English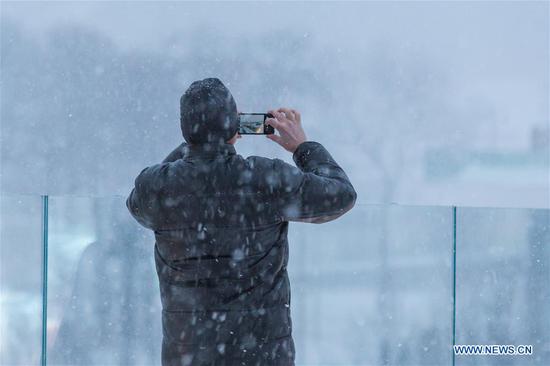 A man takes a picture at a park in Moscow, Russia, on Feb. 5, 2018. Moscow experienced a record strong snowfall last week, which caused delays and cancellations of air flights and the death of at least one victim, officials said."Moscow had the strongest snowfall in the last 100 years," the Moscow mayor's office said in a statement on Monday. (Xinhua/Bai Xueqi)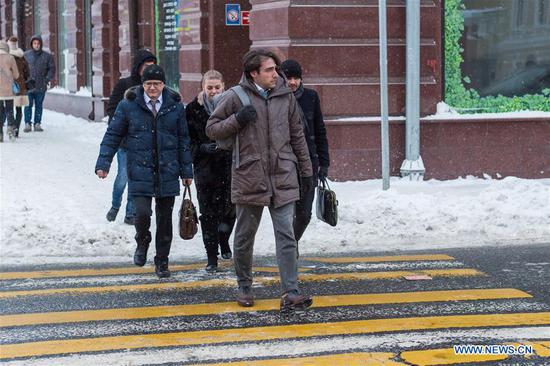 People cross a street in Moscow, Russia, on Feb. 5, 2018. Moscow experienced a record strong snowfall last week, which caused delays and cancellations of air flights and the death of at least one victim, officials said."Moscow had the strongest snowfall in the last 100 years," the Moscow mayor's office said in a statement on Monday. (Xinhua/Bai Xueqi)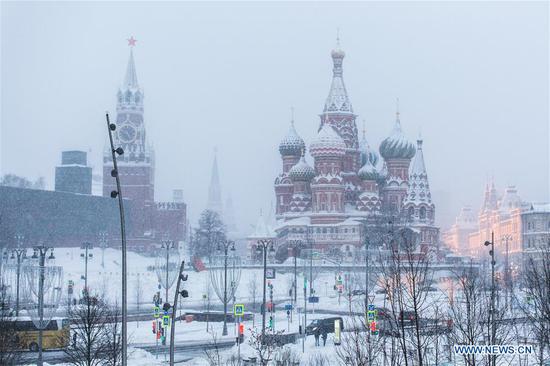 Photo taken on Feb. 5, 2018 shows the Spasskaya Tower (L) and the Saint Basil's Cathedral at the red square in Moscow, Russia, on Feb. 5, 2018. Moscow experienced a record strong snowfall last week, which caused delays and cancellations of air flights and the death of at least one victim, officials said."Moscow had the strongest snowfall in the last 100 years," the Moscow mayor's office said in a statement on Monday. (Xinhua/Bai Xueqi)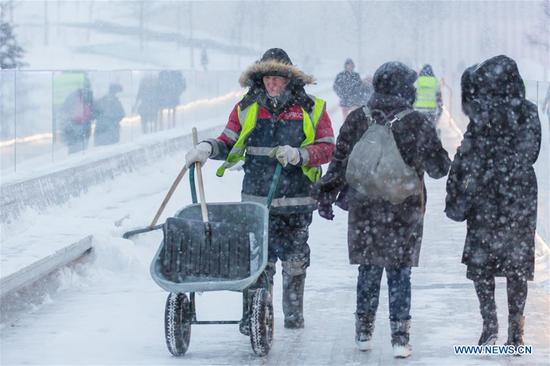 A worker(L) removes snow at a park in Moscow, Russia, on Feb. 5, 2018. Moscow experienced a record strong snowfall last week, which caused delays and cancellations of air flights and the death of at least one victim, officials said."Moscow had the strongest snowfall in the last 100 years," the Moscow mayor's office said in a statement on Monday. (Xinhua/Bai Xueqi)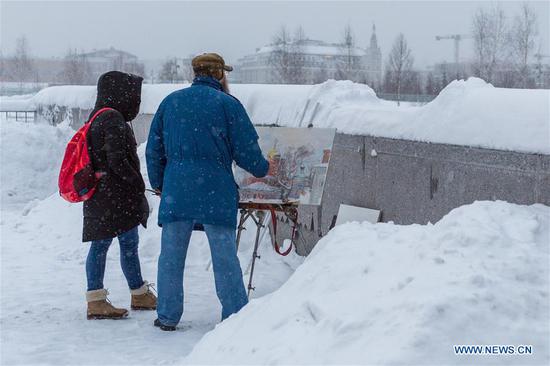 A man draws a painting in Moscow, Russia, on Feb. 5, 2018. Moscow experienced a record strong snowfall last week, which caused delays and cancellations of air flights and the death of at least one victim, officials said."Moscow had the strongest snowfall in the last 100 years," the Moscow mayor's office said in a statement on Monday. (Xinhua/Bai Xueqi)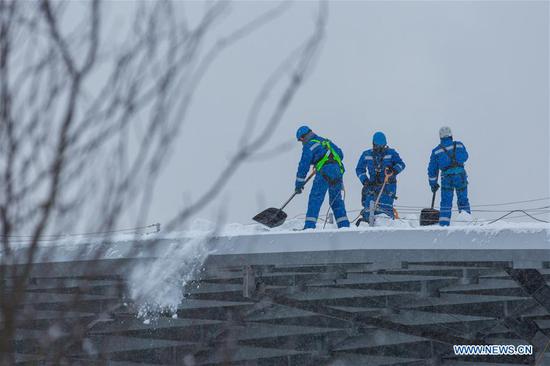 Workers remove snow on a roof in Moscow, Russia, on Feb. 5, 2018. Moscow experienced a record strong snowfall last week, which caused delays and cancellations of air flights and the death of at least one victim, officials said."Moscow had the strongest snowfall in the last 100 years," the Moscow mayor's office said in a statement on Monday. (Xinhua/Bai Xueqi)
MOSCOW, Feb. 5 (Xinhua) -- Moscow experienced a record strongsnowfall last week, which caused delays and cancellations of airflights and the death of at least one victim, officials said.
"Moscow had the strongest snowfall in the last 100 years," theMoscow mayor's office said in a statement on Monday.
It said that in the last two days the snow layer reached 45 cm,which exceeds the average rate for the month.
The main roads of the city have been cleared by Monday, andpublic transport works without interruption, the statementsaid.
The sharp drop in temperature and a continuous snowfall make thesnow clearing complicated, Deputy Mayor Pyotr Biryukov said.However, he added, all engineering systems were working stably.
According to the Yandex Timetable, a public transport timetableonline service in Russia, 91 flights were delayed in Moscowairports on Monday morning and nine flights canceled due to thesnowfall.
On Saturday, one was killed and another two were injured due toheavy snow downing trees, Moscow's Mayor Sergei Sobyanin said inhis VK social network account.
In the next three days, the snow layer is expected to grow eightcm thicker amid strong winds and blizzards. At night, thetemperature is expected to drop to minus 15-17 degrees Celsius,Biryukov said. He encouraged residents to use public transport inthe coming days.
The mayor's office declared that schoolchildren were allowed toskip classes. Enditem