"Grand coalition" party leaders identify key priorities for new German gov't
2018-03-13 02:06:52 GMT
2018-03-13 10:06:52(Beijing Time)
Xinhua English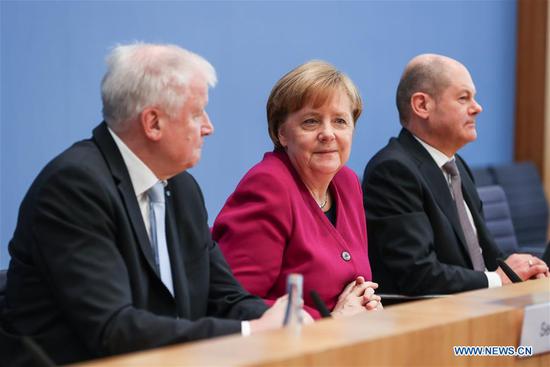 German Chancellor and Christian Democratic Union (CDU) leader Angela Merkel (C), interim German Social Democrats (SPD) leader Olaf Scholz (R) and Christian Social Union (CSU) leader Horst Seehofer attend a press conference in Berlin, capital of Germany, on March 12, 2018. The leaders of the Christian Democratic Union (CDU), Christian Social Union (CSU) and German Social Democrats (SPD) revealed the key priorities of Germany's new federal government on Monday. (Xinhua/Shan Yuqi)
BERLIN, March 12 (Xinhua) -- The leaders of the Christian Democratic Union (CDU), Christian Social Union (CSU) and German Social Democrats (SPD) revealed the key priorities of Germany's new federal government on Monday.
Speaking to the press before the "grand coalition" agreement is signed in a formal ceremony, German Chancellor and CDU leader Angela Merkel called for the swift implementation of the policy proposals listed in the document.
"The time has finally come to begin working," Merkel said, in a reference to the six months it took to form a coalition government since federal elections were held. She highlighted the need for governing parties to renew a "promise of wealth" to citizens to reassure them in the face of deep-seated structural changes associated with globalization and digitalization.
"The prosperity of our country must reach everyone," Merkel said. The chancellor stressed the need to ensure that economic momentum and low unemployment would be preserved during the next parliament.
The CDU leader also drew attention to eurozone reforms as a key priority for Berlin. The entire federal cabinet was of the conviction that the banking and capital markets unions needed to be completed rapidly as crucial step in the institutional development of the single currency.
OPTIMISM
Merkel cautioned her coalition partners that "a lot of work" lay ahead of them but said she was "optimistic" that the CDU, CSU and SPD would cooperate together successfully.
Similarly, interim SPD leader and designated vice-chancellor and finance minister Olaf Scholz expressed optimism about the prospects of the "grand coalition" on Monday.
Whilst acknowledging that the legislative pact had not been a "marriage of love", Scholz described the final coalition agreement as a good compromise which would "advance the interests of our country and citizens." Echoing Merkel's views, the interim SPD leader pointed to the future development of the European Union (EU) as a political and economic community and the sustainability of German growth as key challenges which ministers were confronted with.
CSU leader and designated interior minister Horst Seehofer further emphasized that the "grand coalition" agreement underpinning the next federal government was uniquely geared towards the interests of working class Germans.
"We are forming a grand coalition for ordinary people," Seehofer told the press. The CSU leader claimed there had never been a "coalition agreement which featured a social dimension more prominently" in the country's history.
Following the SPD's publication of ministerial posts last week, Germany's next federal cabinet is now complete nearly half a year after national elections were held in September 2016. The complex and difficult negotiations marked the longest period of government formation in German history.
The three parties will sign the resulting 177-page coalition agreement on Monday. Merkel is subsequently scheduled to be confirmed as chancellor for a fourth term by the federal parliament (Bundestag) on Wednesday.