Croatian conservatives protest against ratifying Istanbul Convention
2018-04-13 04:49:07 GMT
2018-04-13 12:49:07(Beijing Time)
Xinhua English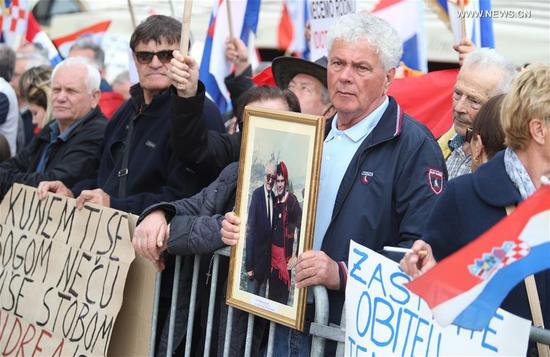 Protesters gather to protest against the ratification of the Council of Europe Convention on Preventing and Combating Violence against Women and Domestic Violence (Istanbul Convention) in Split, Croatia, April 12, 2018. Over 15,000 people gathered in Croatia's second largest city Split on Thursday to protest the ratification of the Istanbul Convention, which the Croatian Parliament is meant to adopt on Friday. (Xinhua/Ivo Cagalj)
SPLIT, Croatia, April 12 (Xinhua) -- Over 15,000 people gathered in Croatia's second largest city Split on Thursday to protest the ratification of the Istanbul Convention, which the Croatian Parliament is meant to adopt on Friday.
The Council of Europe's convention is aimed at protecting women from violence and domestic abuse and has so far been ratified by 24 countries, while Croatian conservatives believe that the convention aims to promote "gender ideology".
The convention, among other countries, has been ratified in Italy, Germany, Russia, Serbia, France, Norway and Turkey.
At the same time, counter protests were organized in Split by those who support the Istanbul Convention should be adopted and who think that it will not endanger the traditional views of the family and sexes.
During the vote over the convention in parliament, several representatives of the ruling party of the Croatian Democratic Party will vote against, but the convention will be supported by the opposition, primarily the Social Democratic Party of Croatia.
The government said the convention does not contain obligation to introduce "gender ideology" into the Croatian legal and educational system.