Massive demonstration against Orban in Budapest
2018-04-15 09:11:33 GMT
2018-04-15 17:11:33(Beijing Time)
Xinhua English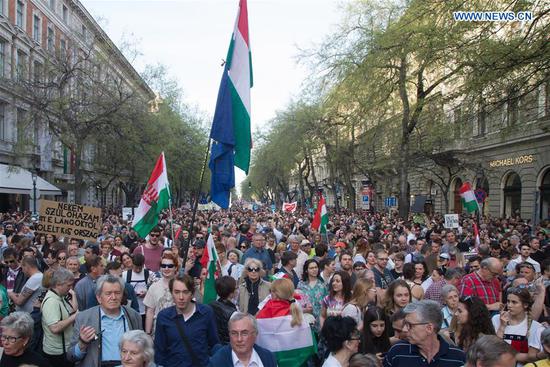 People participate in a demonstration against the outcome of the general elections in Budapest, Hungary, on April 14, 2018. A massive demonstration filled the surroundings of the Hungarian parliament on Saturday, after Hungarian Prime Minister Viktor Orban's third win in a row at the general elections on April 8. (Xinhua/Attila Volgyi)
BUDAPEST, April 14 (Xinhua) -- A massive demonstration filled the surroundings of the Hungarian parliament on Saturday, after Hungarian Prime Minister Viktor Orban's third win in a row at the general elections on April 8.
The crowd, estimated as big as 100,000 people according to some Hungarian media, called for new elections.
"New and fair elections! If the government does not hear our voice, we will be here in even bigger number in one week next Saturday," a speaker, Balazs Gulyas told the crowd, who kept repeating "New elections!" and "Orban get lost!"
The elections saw the large victory of the Hungarian conservative prime minister, whose Fidesz-KDNP coalition received 134 seats of 199 in the parliament according to the latest official figures. But the protesters say the elections were not fair.
The Organization for Security and Co-operation in Europe (OSCE) called the elections, just like those in 2014, as "free but not fair."
The protesters represented all of the opposition parties, old foes like former radical Jobbik party followers marched together with young people of Momentum party, or older socialist party (MSZP) supporters.
Organizers - private individuals and civil organizations - also called for the recount of the votes, a new proportional election law and objective and unbiased public media.
Several solidarity demonstrations - yet much smaller - have been held in other Hungarian cities and some European cities.
The comments of the government is not available now.
Although Hungarian experts and media found several irregularities during last Sunday's polls, they agreed that while favoring Fidesz, these were not important enough to make the elections "cheated."
Orban made it clear during the campaign that the stake of the elections was "the future of Hungary," for those voting for Orban's formation, or to let Hungary become an "immigrant country," for those voting for the fractured opposition.
The demonstration in Budapest illustrated the profound divisions in Hungarian society.
"The following times will be filled with tensions, as the public mood is not at all represented by the parliament's composition," Peter Balazs, former Hungarian Foreign Minister and ex-EU commissioner told Xinhua in a recent exclusive interview.
Evaluating the election, Orban has noted: "Hungarians have highlighted the most important issues, such as immigration and national sovereignty, and decided that they were the only ones to select who they would like to live with in Hungary."