French rail reforms on track despite strikes
2018-06-13 01:45:33 GMT
2018-06-13 09:45:33(Beijing Time)
Agencies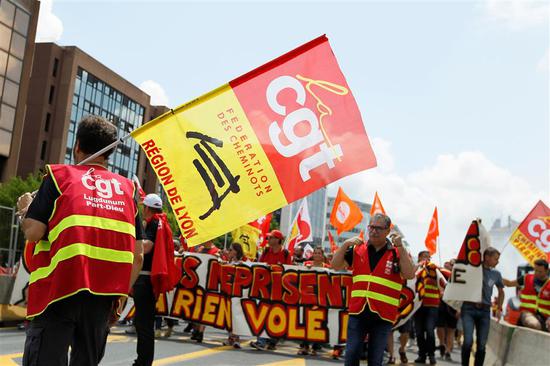 Striking French SNCF railway employees and labor union members attend a demonstration to protest the French government's reform bill in Lyon, France, June 12, 2018.
In launching his plan to overhaul France's heavily-indebted state rail operator SNCF earlier this year, President Emmanuel Macron knew he was taking aim at a bastion of labor unions which have long defied a range of government reform efforts.
Yet on Tuesday, Macron was just days from enshrining into law changes which analysts have compared with Margaret Thatcher's taking on British mining unions in the 1980s.
The final text of the SNCF reform, which the government says is needed to cut costs and improve flexibility ahead of the opening of the EU passenger rail market to competition, was approved by lawmakers on Monday. The National Assembly, where Macron's Republic on the Move party has a solid majority, will vote Wednesday, followed by a final vote in the Senate Thursday.
"The government has committed itself to our rail industry as no other has before us," Transport Minister Elisabeth Borne told Franceinfo radio, referring to pledges for debt relief and infrastructure investments. "I now urge the unions to assume their responsibilities," she said.
Rail workers have staged weeks of rolling strikes against the plans, vowing to walk off the job two days out of every five until June 28.
They are fighting in particular a move to deny job and pension guarantees to new hires, along with plans to turn the SNCF into a joint-stock company, which they consider a first step toward privatization.
Yet polls have consistently shown that the unions have failed to win the battle of public opinion, with nearly 60 percent of respondents saying the strikes are unjustified.
Union leaders have warned the government against claiming victory too early, with some hinting that strikes could be extended into summer.
"Rail workers will decide what to do based on what we obtain, but for now I can solemnly say that this strike is far from over," said Philippe Martinez of the CGT, France's biggest union among public-sector workers.
Despite Tuesday's "day of rail anger" that caused a spike in delays and cancelations for France's 4.5 million daily rail passengers, the number of striking workers has steadily tapered off in recent weeks.
Yet union leaders can claim to have secured guarantees for existing staff including job security if they take a position with one of the new operators arriving in France, and a government pledge to take on 35 billion euros of SNCF debt.
And unions already appear to tacitly accept an end to job-for-life and early retirement benefits for new hires, agreeing to meet government officials Friday for talks on a new collective labor agreement.