Romania holds official inauguration ceremony for its EU Presidency
2019-01-11 02:41:47 GMT
2019-01-11 10:41:47(Beijing Time)
Xinhua English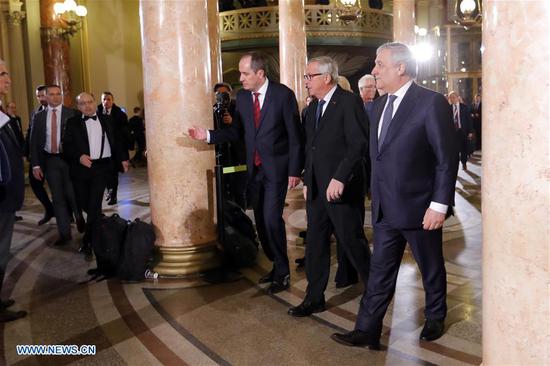 European Commission President Jean-Claude Juncker (2nd R) arrives at the Romanian Atheneum for an official inauguration ceremony marking the start of Romania's Presidency of the Council of the European Union (EU) in Bucharest, capital of Romania, on Jan. 10, 2019. Romania takes over a forefront role on a European level, through the Presidency of the Council of the European Union (EU), and the main objective of its mandate is the consolidation of a more cohesive, more united and stronger Europe, President Klaus Iohannis said late Thursday at the official inauguration ceremony for its Presidency in the EU Council. (Xinhua/Cristian Cristel)
BUCHAREST, Jan. 10 (Xinhua) -- Romania takes over a forefront role on a European level, through the Presidency of the Council of the European Union (EU), and the main objective of its mandate is the consolidation of a more cohesive, more united and stronger Europe, President Klaus Iohannis said late Thursday at the official inauguration ceremony for its Presidency in the EU Council.
"We all know that exercising a presidency is a mission of high responsibility, entailing at the same time commitment and pragmatism to be able to respond of a concrete, proper and realistic manner to all challenges. More unity and cohesion - this is the path we propose for the next six months," Iohannis told the inauguration ceremony attended by the President of the European Parliament Antonio Tajani, the President of the European Council Donald Tusk, the President of the European Commission Jean-Claude Juncker, as well as leaders of the Romanian parliament and the prime minister.
According to the president, the first semester of 2019 will be defining for the future dynamics of the EU which is currently facing various challenges, both internal and external, such as the process of Brexit, migration and security in its immediate vicinity and beyond the European continent, as well as the negotiations on the future Multiannual Financial Framework post 2020.
In his turn, Juncker said in his speech that the EU is not complete without Romania, and Romania's natural place is in Schengen.
"I was pleading in 2014 that Romania should be part of Schengen. I remain faithful to this promise," said the European official.
European Council President Donald Tusk voiced his confidence that Romania will perform "with energy and with wisdom" "a true Romanian Rhapsody" when holding the Presidency of the EU Council.
"You will be Europe's hosts and I am positive that you will act in the spirit of the proverb 'A good farmer makes a good farm,'" the European official underlined in his speech delivered unexpectedly in Romanian.
In her speech, Romania's Prime Minister Viorica Dancila vowed that "Romania will lead the Council of the EU with dignity."
The official ceremony was followed by the inaugural concert offered by the EU Orchestra, composed of musicians from the 28 EU member-states.
Romania is exercising, between Jan. 1 to June 30, the Rotating Presidency of the EU Council for the first time since the accession to the EU 12 years ago, on Jan. 1, 2007. The motto of the Romanian Presidency is "Cohesion, a common European value."
On June 30, Romania will hand over the Rotating Presidency to Finland.