BiH exhibition focuses on Romanian inventors' contribution to world heritage
2019-05-07 02:47:08 GMT
2019-05-07 10:47:08(Beijing Time)
Xinhua English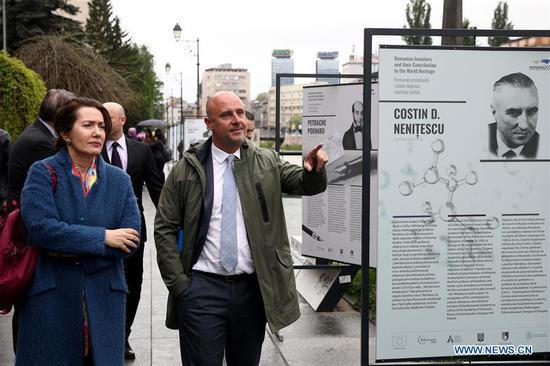 People visit the exhibition "Romanian inventors and their contribution to the world heritage" in Sarajevo, capital of Bosnia and Herzegovina (BiH), on May 6, 2019. An exhibition, which focuses on Romanian inventors' contribution to world heritage, was unveiled on Monday in Bosnia and Herzegovina's capital of Sarajevo. (Xinhua/Nedim Grabovica)
SARAJEVO, May 6 (Xinhua) -- An exhibition, which focuses on Romanian inventors' contribution to world heritage, was unveiled on Monday in Bosnia and Herzegovina's capital of Sarajevo.
It was sponsored by the European Union and the Romanian Embassy in SarajevoSarajevo, and was held at the left bank of the Miljacka River in Sarajevo.
Large black-and-white portraits of 26 Romanian inventors in modern times and their stories are displayed along the river, attracting pedestrians to stop and watch.
Khaldoun Sinno, deputy head of the EU delegation to BiH, said in his opening speech that Romania has produced many outstanding inventors in the fields of biological engineering, chemical engineering, aerospace, automobile manufacturing, geology and medicine, making great contributions to world civilization.
For example, Elisa, the first chemical engineer in the history of Europe and even the world, was born in Romania. She gained a worldwide reputation for her research of exploring mineral resources. But the inventors have long been little known to the public, and the exhibition commemorates their contributions.
Dana Msnuela Constantinescu, Romania's Ambassador to BiH, told Xinhua that the inventions of these inventors played an important role in improving the quality of human life and promoting the progress of the world.
Most of them studied in European countries in the learning stage, and cooperated with foreign inventors in the process of invention, demonstrating the importance of the spirit of cooperation for human progress.
She also said that she hoped the exhibition would arouse young people's enthusiasm for scientific inventions.
Jenan, a student at the International University of Sarajevo who just won at the Falling Walls Competition in Berlin, told Xinhua that the exhibition was special, giving him the first exposure to so many great inventors coming from Romania between the end of 19 century to 20 century.
The exhibition runs until May 15. Enditem