PM Orban pledges gov't help for Hungary's virus-hit economic sectors
2020-03-11 06:12:55 GMT
2020-03-11 14:12:55(Beijing Time)
Xinhua English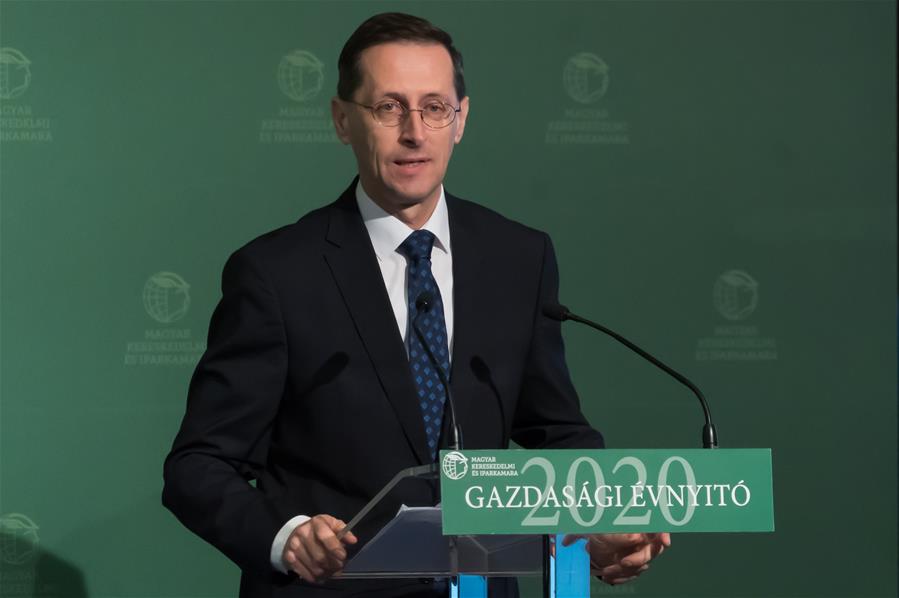 Hungary's Finance Minister Mihaly Varga speaks at a forum in Budapest, Hungary, on March 10, 2020. At a forum organized by the Hungarian Chamber of Commerce and Industry (MKIK), Hungary's Prime Minister Viktor Orban on Tuesday pledged government assistance to economic players who suffer losses due to the novel coronavirus. (Photo by Attila Volgyi/Xinhua)
BUDAPEST, March 10 (Xinhua) -- At a forum organized by the Hungarian Chamber of Commerce and Industry (MKIK), Hungary's Prime Minister Viktor Orban on Tuesday pledged government assistance to economic players who suffer losses due to the novel coronavirus.
"An economic protection action plan is needed," Orban said, adding that he had asked the MKIK to collect feedback from business leaders on the difficulties the different industrial sectors expect to face and the ways to address them.
Orban said that rather than introducing blanket macroeconomic measures, specific sectors, such as tourism, would receive targeted help. He stressed that the government was prepared to provide the required financial conditions. The country's budgets for 2020 and 2021 will be redrafted to take into consideration the additional billions of euros needed for the measures to stimulate the economy, he said.
Hungary must find solutions to ensure that the economic downturn does not match that of the 2008-2009 crisis and that it can maintain its growth advantage over the European Union (EU), he stressed.
Orban also emphasized that preparations must be made for a global pandemic and that "everyone must be ready to step out of their comfort zone."
Hungary's Finance Minister Mihaly Varga, who also spoke at the forum, stressed that his ministry was ready to protect the country's economic achievements and growth advantage by introducing additional policy measures.
"I'd like the economy to continue to be driven by consumption, wage flows and capital inflows this year," he said.