2 killed in suicide bombings at Syria's police department
2017-10-12 01:59:45 GMT
2017-10-12 09:59:45(Beijing Time)
Xinhua English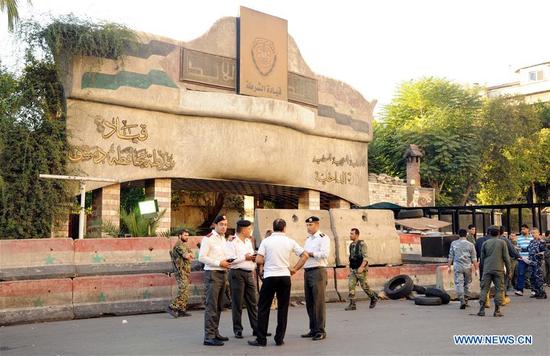 Policemen stand in front of the police department in Damascus, capital of Syria, on Oct. 11, 2017. Two people were killed and 10 others wounded when three suicide bombers blew themselves up near the police department here on Wednesday, state news agency SANA reported. (Xinhua/Ammar Safarjalani)
DAMASCUS, Oct. 11 (Xinhua) -- Two people were killed and 10 others wounded when three suicide bombers blew themselves up near the police department in Syria's capital Damascus on Wednesday, state news agency SANA reported.
The bombers detonated their explosive belts near the general police department in the Khaled Bin al-Walid street in the Fahammeh area in Damascus, said the Syrian Interior Ministry.
The ministry said two bombers attempted to enter the department and clashed with the guards before blowing themselves up.
A third bomber was encircled by the guards behind the department building, but also detonated his explosive belt, the ministry added.
Sham FM pro-government radio said four wounded people received treatment at local hospital and are now in stable conditions.
The security forces cordoned off the area after the explosions.
Earlier this month, suicide bombers entered the police station in Damascus' central Midan neighborhood, blowing themselves up, and killing 17 police officers and civilians.
The incident came as the army on Wednesday declared gaining control over the southeastern countryside of Damascus by capturing over 8,000 square km of areas.