Dozens dead, more than 300 injured in earthquake near Iran-Iraq border
2017-11-13 03:36:12 GMT
2017-11-13 11:36:12(Beijing Time)
Sina English
At least 140 people were killed and 860 injured in Iran in a powerful earthquake that struck the Iran-Iraq border region Sunday, Iran's state-run news agency reports.
The U.S. Geological Survey recorded that the 7.3-magnitude quake struck around 19 miles from the Iraqi city of Halabjah, at a depth of 14 miles.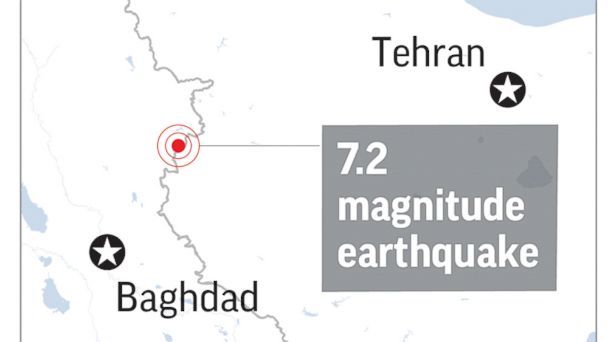 IRAQ IRAN QUAKE (The Associated Press)
According to the USGS, there were two smaller quakes in the area after the 1:18 p.m. ET quake: a 5.3-magnitude quake at 1:29 p.m. ET at a depth of 6 miles, and a 4.5-magnitude quake at 4:33 p.m. ET, also at a depth of 6 miles.
In Iraq's Kurdistan region, the health department in the city of Darbandikhan said that three people had died and 40 people had been wounded.
At least 100 people have been injured across Iraqi Kurdistan. (Agencies)