Syrian gov't rejects UN-led constitutional committee
2018-02-14 02:38:56 GMT
2018-02-14 10:38:56(Beijing Time)
Xinhua English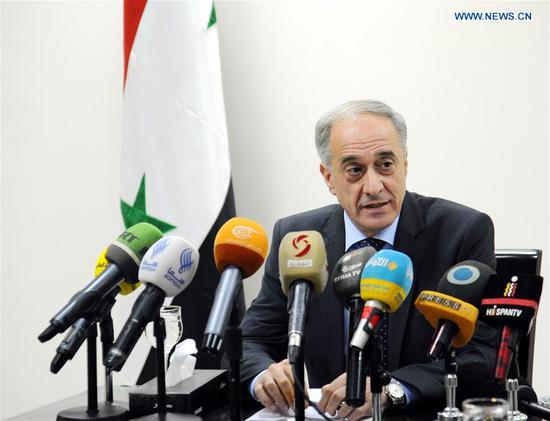 Ayman Soussan, an assistant of Syria's Foreign Minister, speaks at a press conference in Damascus, Syria, Feb.13, 2018. The Syrian government said Tuesday it rejects any formation of a constitutional committee by the UN out of the context of the Syrian talks in Sochi held last month, according to state news agency SANA. (Xinhua/Ammar Safarjalani)
DAMASCUS, Feb. 13 (Xinhua) -- The Syrian government said Tuesday it rejects any formation of a constitutional committee by the UN out of the context of the Syrian talks in Sochi held last month, according to state news agency SANA.
In a press briefing Tuesday, Ayman Soussan, an assistant of Syria's Foreign Minister Walid al-Moallem, made it clear that his government is committed to the outcome of last month's Sochi talks, which agreed on the formation of a constitutional committee from the participants in the Sochi talks in particular.
He noted that Syria is not bound to the efforts of the UN envoy to Syria, Staffan de Mistura, to have a role in forming the committee outside of the Sochi agreement.
He even said that the Sochi meeting hasn't given de Mistura any authority at all in terms of the guardianship of the constitutional committee.
"As for the constitutional committee that has been identified in Sochi in terms of its tasks, mandate, and members who should be from the participants in the Sochi conference, and thus we are not concerned and have nothing to do with any other committee that is not Syrian led or constituted," he said.
Last month, a committee was formed at the Syrian peace talks held in Russia's Sochi, with an aim to discuss revision of the current Syrian constitution. The committee is formed by 150 government loyalists and opposition figures attending the Syrian National Dialogue and they will be tasked with discussing amendments to the current Syrian constitution, not forming a new one.