Syria prepares 2nd humanitarian corridor for civilians' evacuation from Eastern Ghouta
2018-03-09 01:42:52 GMT
2018-03-09 09:42:52(Beijing Time)
Xinhua English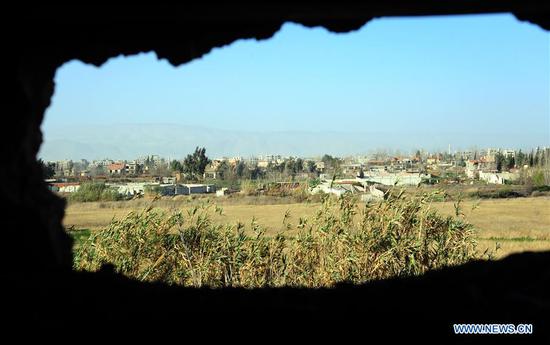 Rebel-held areas in the town of Jisreen are seen from a Syrian military barrier in the government-controlled Mlaiha town in Eastern Ghouta, Syria, on March 8, 2018. The Syrian government on Thursday prepared a second humanitarian corridor for evacuating civilians from the rebel-held areas in Eastern Ghouta, the state-run Ekhbaria TV reported. (Xinhua/Ammar Safarjalani)
DAMASCUS, March 8 (Xinhua) -- The Syrian government on Thursday prepared a second humanitarian corridor for evacuating civilians from the rebel-held areas in Eastern Ghouta, the state-run Ekhbaria TV reported.
The new corridor is from the Mlaiha-Jisreen area east of Damascus, with civilians expected to leave on Thursday, after ten days of failed attempt to receive civilians from the first designated crossing in Wafidin area in northeast of Damascus.
The civilians' evacuation from the rebel-held areas in Eastern Ghouta is an essential part of the Russian-backed daily humanitarian pause, which has so far seen the evacuation of only a few civilians from Eastern Ghouta. Syrian government accuses the rebels of preventing the civilians from leaving.
The Syrian army has captured 52 percent of Eastern Ghouta in recent days, as part of an ongoing large-scale offensive to dislodge the rebels from the area.
UN humanitarian agencies have sounded the alarm about the worsening humanitarian situation in Eastern Ghouta, where activists said over 800 people have been killed since late last month by intensified shelling and fighting between government troops and the rebels.