Turkey's Afrin operation might finish by May: FM
2018-03-09 01:41:23 GMT
2018-03-09 09:41:23(Beijing Time)
Xinhua English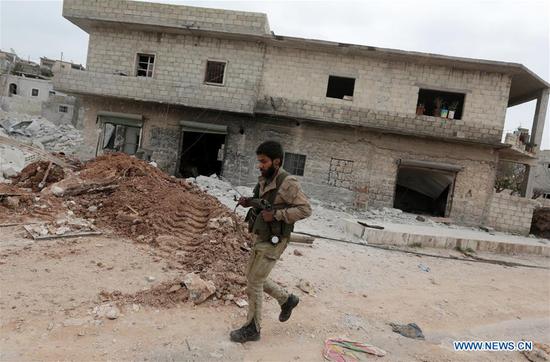 A Turkish-backed Free Syria Army fighter is seen in Afrin, northern Syria, on March 8, 2018. Turkish Foreign Minister Mevlut Cavusoglu said on Thursday that the country's ongoing military operation in Afrin northern Syria might be completed in May, Turkish broadcaster CNN Turk quoted him as saying during a visit to Vienna. (Xinhua)
ANKARA, March 8 (Xinhua) -- Turkish Foreign Minister Mevlut Cavusoglu said on Thursday that the country's ongoing military operation in Afrin northern Syria might be completed in May, Turkish broadcaster CNN Turk quoted him as saying during a visit to Vienna.
Speaking at a joint news conference with his Austrian counterpart Karin Kneissl, Cavusoglu told reporters that Turkey wants the operation to end as quickly as possible so that Afrin can "embrace stability and civilians can return."
Cavusoglu also said Turkey and Iraq reached a consensus to carry out a joint cross-border operation against the Kurdistan Workers' Party (PKK), after Iraq holds parliamentary elections scheduled for May.
On Jan. 20, Turkey launched "Operation Olive Branch" to clear Kurdish People's Protection Units (YPG) militants from Afrin.
The YPG is regarded by Turkey as the Syrian affiliate of the PKK, listed as a terrorist organization by Turkey, the United States and European Union.