UN chief deplores failure to implement UN resolution on Syria
2018-03-13 02:00:36 GMT
2018-03-13 10:00:36(Beijing Time)
Xinhua English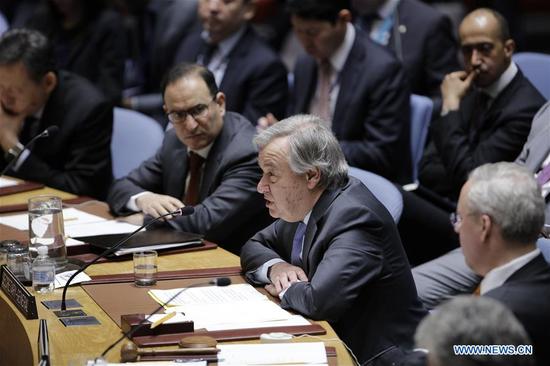 United Nations Secretary-General Antonio Guterres (C) addresses the Security Council meeting on Syria situation at the UN headquarters in New York, March 12, 2018. UN Secretary-General Antonio Guterres on Monday deplored the failure to implement a Security Council resolution that demands cease-fire in Syria. (Xinhua/Li Muzi)
UNITED NATIONS, March 12 (Xinhua) -- UN Secretary-GeneralAntonio Guterres on Monday deplored the failure to implement aSecurity Council resolution that demands cease-fire in Syria.
Reporting to the Security Council on the implementation ofResolution 2401, Guterres said there has been no cessation ofhostilities in Syria.
Though conflicts in some areas are diminishing in intensity,violence continues in Eastern Ghouta and beyond -- including inAfrin, parts of Idlib and in Damascus and its suburbs, he said.
Particularly in rebel-held Eastern Ghouta, airstrikes, shellingand ground offensives have intensified after the adoption of theresolution on Feb. 24, and claimed hundreds of civilian lives, theUN chief added.
The resolution demands the enabling of "the safe, unimpeded andsustained" delivery of humanitarian aid and services across Syriafor at least 30 days.
"Despite some limited convoy deliveries, the provision ofhumanitarian aid and services has not been safe, unimpeded orsustained," reported Guterres.
On the resolution's demand for medical evacuations of thecritically sick and wounded, Guterrest said: "To our knowledge, notone critically sick or wounded person has yet been evacuated."
Guterres reported "egregious violations, indiscriminate attacks,and a failure to protect civilians and civilian infrastructure"despite the resolution's demands for all parties to comply withtheir obligations under international law and international humanrights law.
"I am here to report on the implementation of Security CouncilResolution 2401... But I am keenly aware that I am doing so just asthe bloodletting in Syria enters its eighth year," said thesecretary-general.
"I am deeply saddened by the immense loss and cascadingsuffering of the Syrian people. And I am deeply disappointed by allthose who have, year after year, by action or inaction, by designor indifference, allowed this to happen."
Despite all the difficulties, lack of trust, mutual suspicionsand cold calculations, it should still be possible to implementResolution 2401, he said. "We cannot give up for the sake of theSyrian people."
"I appeal to all parties for the full implementation ofResolution 2401 throughout the whole of Syrian territory. TheUnited Nations is ready to assist in any efforts to make thathappen.
"I call on all states with influence to exercise it in supportof the efforts of the United Nations and the implementation of theresolution.
"I hope this week's Astana ministerial meeting, which willgather the guarantors of de-escalation, will concretely restorede-escalation arrangements, and take real steps on detainees,abductees and missing persons."
He underscored the urgency of seeing medical evacuations,civilian protection, and full, sustained and unimpeded humanitarianaccess as soon as possible. Enditem