Syrian army evacuates civilians from Damascus' Eastern Ghouta amid military progress
2018-03-13 02:05:05 GMT
2018-03-13 10:05:05(Beijing Time)
Xinhua English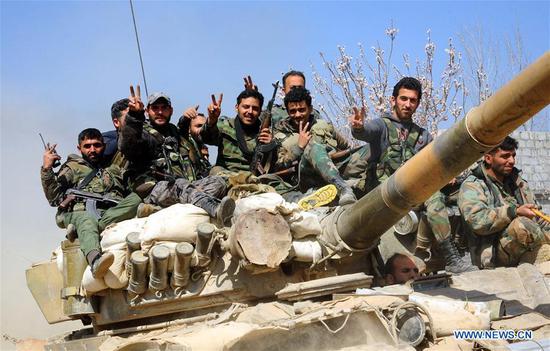 Syrian soldiers flash the victory sign on their tank in the town of Aftaris in Damascus' Eastern Ghouta countryside, Syria, on March 12, 2018. Syrian army captured on Monday the town of Aftaris in Eastern Ghouta, the latest town to be retaken by the army during the wide-scale offensive in that area, state news agency SANA said. (Xinhua/Ammar Safarjalani)
DAMASCUS, March 12 (Xinhua) -- The Syrian army on Monday securedthe evacuation of civilians from recently-captured areas in thecapital Damascus' Eastern Ghouta countryside, state news agencySANA reported.
The latest batch of civilians was evacuated from the town ofMedyara, which was stormed by the Syrian army on Sunday.
This batch is the second after the army also secured theevacuation of the civilians from the town of Mesraba.
The Russian Defense Ministry was cited by local media reports asplacing the number of civilians evacuated from Eastern Ghouta overthe past few days at 76.
However, no major civilian evacuation took place through thedesignated humanitarian corridor such as the one in Wafidin area innortheastern Damascus close to the rebel-held town of Douma inEastern Ghouta or in Mlaiha southeast of Damascus.
The official media outlets in Syria accuse the rebels ofpreventing the civilians from leaving.
Meanwhile, SANA said the Syrian army captured on Monday the townof Aftaris in Eastern Ghouta, the latest town to be retaken by thearmy during the wide-scale offensive in that area.
The situation in Eastern Ghouta has flared up since late lastmonth as a result of a wide-scale military operation in that area.The Syrian army has been fighting there to dislodge theal-Qaida-linked groups from that area.
A day earlier, the Syrian army split Eastern Ghouta into threeparts after advancing in the battles there, tightening the siege onDouma in the north, the city of Harasta in the west and other townsand villages south of Eastern Ghouta.
The Syrian Observatory for Human Rights said the governmentforces have captured 60 percent of Eastern Ghouta since unleashingan offensive in that area late last month.
Eastern Ghouta, a 105-square-km agricultural region consistingof several towns and farmlands, poses the last threat to thecapital due to its proximity to government-controlled neighborhoodseast of Damascus and ongoing mortar attacks that target residentialareas in the capital, pushing people over the edge.
Four major rebel groups are currently positioned inside EasternGhouta, namely the Islam Army, Failaq al-Rahman, Ahrar al-Sham, andthe Levant Liberation Committee, known as the al-Qaida-linked NusraFront.
The UN humanitarian agencies have sounded the alarm about theworsening humanitarian situation for 400,000 people in that region,where activists said over 1,000 people have been killed since latelast month by the heavy bombardment and military showdown in areasof Eastern Ghouta. Enditem