7 Palestinians injured by Israeli retaliatory airstrikes in Gaza
2018-08-10 02:32:31 GMT
2018-08-10 10:32:31(Beijing Time)
Xinhua English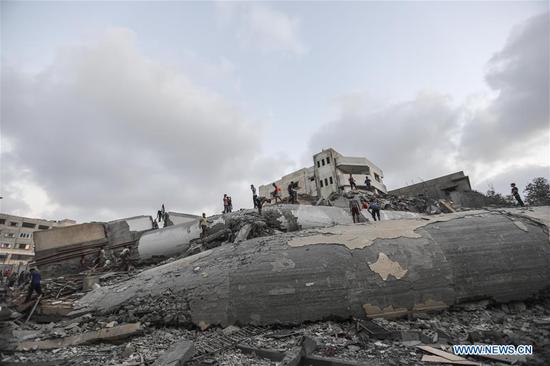 Palestinians search in the rubble of a building following an Israeli airstrike in Gaza City, on Aug. 9, 2018. The Israeli war jets launched 12 successive airstrikes on a building in west Gaza in response to rockets firing from Gaza into Israel, eyewitnesses and security sources said. Sources in western Gaza city said at least 18 civilians were injured in the new round of airstrikes carried out by Israel Thursday afternoon. (Xinhua/Wissam Nassar)
GAZA, Aug. 9 (Xinhua) -- Sources in western Gaza city said at least seven civilians were injured in the new round of airstrikes carried out by Israel Thursday afternoon.
The Israeli war jets launched 12 successive airstrikes on a building in west Gaza in response to rockets firing from Gaza into Israel, eyewitnesses and security sources said.
Huge smoke was seen billowing from the building, which known as Al-Misehal Center for Culture and Arts, that includes a theater, according to the sources.
Israel resumed airstrikes on Hamas facilities after only a few hours of calm. It was reportedly in response to the earlier rockets fired from Gaza into Israel.
Earlier on Thursday, several rockets were fired from the Hamas-ruled coastal enclave into the southern Israeli city of Beer Sheba.
Tension between Israel and Hamas in Gaza mounted again after an Israeli army tank shell killed two Hamas militants in northern Gaza on Tuesday.
Israeli army and Hamas militants have witnessed several rounds of fire exchange since Tuesday.
Gaza Health Ministry said that three Palestinians were killed overnight, including a Hamas militant, a pregnant woman and her female toddler, adding that more than 12 others were injured in the airstrikes all over the Gaza Strip.