1,000 people leave Rukban camp in SE Syria
2019-04-23 02:48:54 GMT
2019-04-23 10:48:54(Beijing Time)
Xinhua English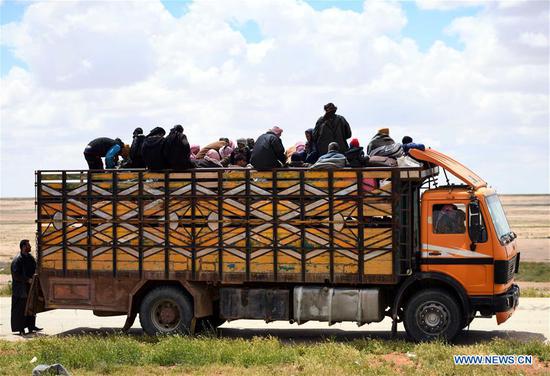 Displaced Syrians reach the Jlaighem crossing in the eastern countryside of Homs Province in central Syria, April 22, 2019. As many as 1,000 people left the al-Rukban camp in southeastern Syria on Monday to government-controlled areas, a war monitor reported. The batch is the largest to leave the battered rebel-held camp since the evacuation of people from the camp began earlier this month, according to the Syrian Observatory for Human Rights. (Xinhua)
DAMASCUS, April 22 (Xinhua) -- As many as 1,000 people left the al-Rukban camp in southeastern Syria on Monday to government-controlled areas, a war monitor reported.
The batch is the largest to leave the battered rebel-held camp since the evacuation of people from the camp began earlier this month, according to the Syrian Observatory for Human Rights.
With the latest batch, a total of 3,100 people have already left al-Rukban to government areas in the central province of Homs, said the UK-based watchdog group.
The Rukban camp is home to 50,000 displaced Syrians, who are suffering from the harsh humanitarian situation because of the cold weather and lack of supplies.