Saudi Arabia says achieve budget surplus in first quarter of 2019
2019-04-25 02:44:22 GMT
2019-04-25 10:44:22(Beijing Time)
Xinhua English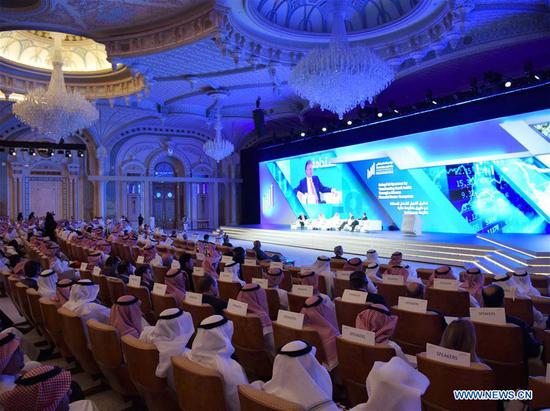 Guests and speakers attend the first panel discussion at the Financial Sector Conference in Riyadh, Saudi Arabia, April 24, 2019. Saudi Arabia announced on Wednesday achieving a budget surplus in the first quarter of this year, which is the first since 2014, Saudi Press Agency reported on Wednesday. (Xinhua/Tu Yifan)
RIYADH, April 24 (Xinhua) -- Saudi Arabia announced on Wednesday achieving a budget surplus in the first quarter of this year, which is the first since 2014, Saudi Press Agency reported on Wednesday.
The surplus reached 27.8 billion Saudi riyals (7.4 billion U.S. dollars), Saudi Minister of Finance Mohammed bin Abdullah Al-Jadaan said at the Financial Sector Conference in Riyadh.
He highlighted that the revenues increased by 48 percent in the first quarter of 2019 compared to the same quarter in 2018, while total spending rose by 8 percent for the same period.
The minister revealed that the non-oil revenues in the first quarter of 2019 grew at a rate three times higher than they did in 2014, totalling 76.3 billion Saudi riyals (20.3 billion U.S. dollars) compared to 21.9 billion Saudi riyals (5.8 billion U.S. dollars) in 2014.
"This year's budget clearly attests to the fact that the Kingdom's fiscal policy is progressing towards achieving its Vision 2030-related objectives," the minister said.