Gaza militant groups warn Israel of escalating attacks on Gaza
2019-05-05 02:43:18 GMT
2019-05-05 10:43:18(Beijing Time)
Xinhua English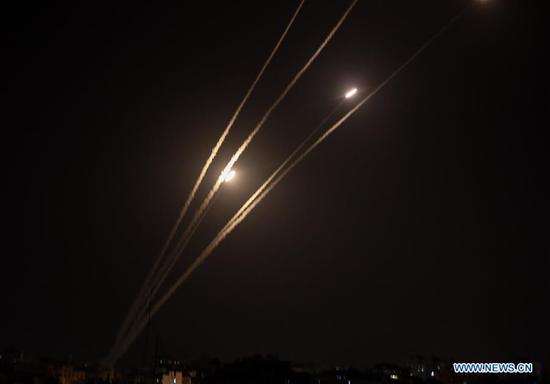 The picture taken from the Gaza Strip on May 4, 2019 shows missiles being launched toward Israel. Gaza militant groups fired rockets from the Gaza Strip into Israel on Saturday night, while Israeli warplanes continued striking on military facilities and posts that belong to militant groups. (Xinhua/Yasser Qudih)
GAZA, May 4 (Xinhua) -- The Gaza Joint Chamber of Military Operations, which comprises various Palestinian factions, including Hamas movement, warned Israel on Saturday of escalating its aerial strikes on the Gaza Strip.
The chamber of military operations said in a press statement that "the response of the factions will be bigger, larger and tougher in case the occupation (Israel) expands its assaults and aggression."
"The armed wings of the Palestinian factions in the Gaza Strip will be the defensive shield for our people and our lands," said the statement, adding "the joint chamber of operations will keep an eye on the Zionist enemy's behavior on the ground."
It claimed responsibility for launching dozens of projectiles and rockets from the Gaza Strip into Israel, adding "launching rockets was made in the frame of responding to the Zionist enemy's violations and shedding our people's blood."
Tension between Israel and the Palestinian factions' militant groups has been flaring since Friday, leading five Palestinians killed, including two militants and three civilians and wounding 60 others.
More rockets had been fired from the Gaza Strip into southern Israel, while Israeli warplanes and Israeli army artillery continued launching strikes on militants' facilities and posts all over the coastal enclave.
Earlier on Saturday, an Israeli army spokesman announced that its warplanes destroyed an underground tunnel that belongs to the Islamic Jihad and goes from the town of Rafah in southern Gaza Strip into Israel.
More than 30 military posts and training facilities that belong to various factions' armed wing were hit by Israeli warplanes missiles all over the Gaza Strip, while militants fired more than 200 projectiles into Israel.