Supporters of Iraqi Shiite cleric rally against possible U.S.-Iran war
2019-05-25 11:55:27 GMT
2019-05-25 19:55:27(Beijing Time)
Xinhua English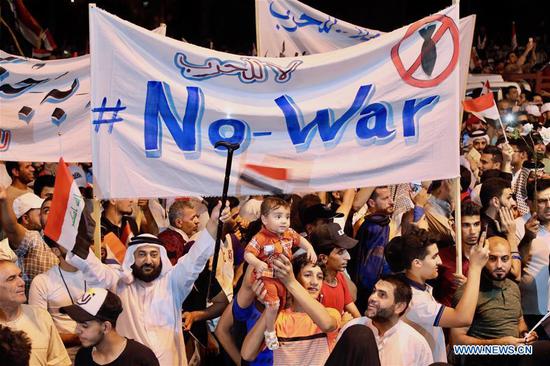 People hold anti-war banners and wave Iraqi flags during a protest in Baghdad, Iraq, on May 24, 2019. Hundreds of supporters of Iraqi prominent Shiite cleric Moqtada al-Sadr rallied on Friday evening in the capital Baghdad and other Iraqi cities, rejecting war between Iran and the United States. (Xinhua/Khalil Dawood)
BAGHDAD, May 24 (Xinhua) -- Hundreds of supporters of Iraqi prominent Shiite cleric Moqtada al-Sadr rallied on Friday evening in the capital Baghdad and other Iraqi cities, rejecting war between Iran and the United States.
The demonstrators rallied in Tahrir Square in downtown Baghdad, where many of them carried Iraqi flags, white flowers and balloons, and some released dozens of white doves representing peace, while chanting "Yes, Yes to peace. No, No to war."
The demonstrators also held banners calling for keeping Iraq away from the war, with one banner reading "No, no to war. Keep Iraq away from war and conflict."
Some banners were written in English and Persian in large-size font with Arabic translation in small-size font, reading "No to war."
Demonstrations also took place in the holy Shiite city of Karbala and the city of Diwaniyah in central and southern Iraq after the Shiite cleric call for rallies across Iraq.
"I don't want a war between Iran and America and do not want Iraq to be a battlefield of such war. We need a serious stand from the leaders of the country in order to distance Iraq from such war which would turn everything to rubble," Sadr wrote on his Twitter page earlier.
The demonstrations came amid rising tension in the region after U.S. President Donald Trump decided not to re-issue the sanctions waivers for major importers to continue buying Iran's oil when they expired in early May.
On May 15, the U.S. State Department ordered the non-emergency U.S. employees working in both the embassy in Baghdad and the consulate in Erbil to leave Iraq, according to a U.S. embassy statement.
Earlier, the U.S. military said the U.S. forces were on high alert in Iraq and Syria over fears of "imminent threats" from Iran-backed forces in the region.
On May 19, a Katyusha rocket struck an empty area near the U.S. embassy in Iraq, causing no casualties.
The United States has also increased its military buildup in the region recently by deploying an aircraft carrier, bombers and anti-missile systems, citing a threat of Iranian attack.