Taliban's Red Unit Commander among 16 killed in N. Afghanistan
2019-06-12 03:11:06 GMT
2019-06-12 11:11:06(Beijing Time)
Xinhua English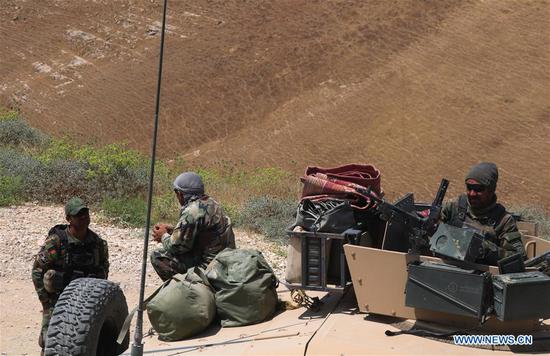 Afghan security force members take part in a military operation in Sari Pul province, Afghanistan, June 11, 2019. Afghan security forces have launched clearance operations in Kohistanat district of northern Sari Pul province, killing 16 insurgents including Abdul Bashir the commander of the so-called Red Unit Force of the militant group, provincial governor Abdul Qader Ashna said Tuesday. (Xinhua/Mohammad Jan Aria)
SARI PUL, Afghanistan, June 11 (Xinhua) -- Afghan security forces have launched clearance operations in Kohistanat district of northern Sari Pul province, killing 16 insurgents including Abdul Bashir the commander of the so-called Red Unit Force of the militant group, provincial governor Abdul Qader Ashna said Tuesday.
"Taliban Red Unit Commander, Abdul Bashir and 15 of his subordinates have been killed, 23 others wounded and five villages have been retaken from the insurgent group, following army crackdowns on the militants, launched couple of days ago," Ashna told Xinhua.
The official also confirmed the death of two security personnel and injury of four others during the operations.
Afghan forces have stepped up operations against armed militants across the militancy-battered country.