Israeli PM's visit to Hebron sparks large Palestinian outrage
2019-09-05 03:14:50 GMT
2019-09-05 11:14:50(Beijing Time)
Xinhua English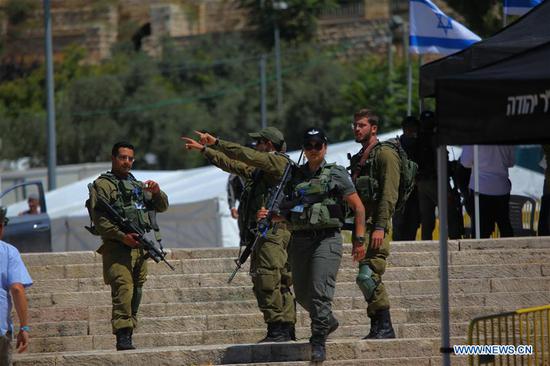 Israeli soldiers stand guard during the visit of Israeli Prime Minister Benjamin Netanyahu in the West Bank city of Hebron, on Sept. 4, 2019. Israeli Prime Minister Benjamin Netanyahu on Wednesday made a controversial visit to a flashpoint site in the West Bank city of Hebron to mark the killing of Jews there in 1929. (Photo by Mamoun Wazwaz/Xinhua)
RAMALLAH, Sept. 4 (Xinhua) -- The visit of Israeli Prime Minister Benjamin Netanyahu to the southern West Bank city of Hebron on Wednesday afternoon has sparked large outrage among the Palestinians.
Amid intensive Israeli security presence, Netanyahu visited the city of Hebron and the area of the Ibrahimi Mosque, also known as "Cave of the Patriarchs" for Jews.
His remarks saying that "we will stay in the city forever" had sparked large outrage.
Netanyahu's visit was part of his campaign of the Israeli parliamentary elections, which are due to be held in Israel on Sept. 17. The visit was also to commemorate the killing of 67 Jews in 1929 in the city of Hebron.
The Palestinian Authority condemned in an official statement the visit of Netanyahu, saying that Netanyahu's visit to Hebron and to the Ibrahimi Mosque is "a severe escalation and provocation the Muslims' feelings."
Nabil Abu Rdeineh, spokesman of the Palestinian presidency, said that "storming Hebron by Netanyahu comes in the frame of keeping the Israeli assaults on Islamic and Christian holy places, either in occupied Jerusalem or in Hebron."
He warned of "the serious consequences of Netanyahu's visit, which aimed at gaining more votes of the extreme right-wing in Israel."
Hanan Ashrawi, member of the Executive Committee of Palestine Liberation Organization (PLO), said in a press statement that the visit of Netanyahu "is provocative and it is an aggression on the Palestinians in the city."
"This visit was organized to serve his elections' goals and also encourage the right-wing settlement activities," she said, adding "this is a severe challenge to the international community which rejects the illegal settlement."
In Gaza, Islamic Hamas movement, which has been ruling the Gaza Strip since 2007, said in a press statement that "breaking into Hebron is an electoral attempt to satisfy the Zionist settlers and encourage them for more assaults on Islamic sites."
Shortly before Netanyahu's first visit in 20 years, Israeli President Reuven Rivlin and Knesset Speaker Yuli Edelstein visited the city.
"We will impose Israeli sovereignty over Hebron and make it an important city in Israel," Edelstein told reporters.
Hebron has a population of about 250,000 Palestinians.
The Ibrahimi Mosque is the oldest and most uninterrupted building in the West Bank, the fourth most sacred place for Palestinian Muslims, and the second most sacred place for Jews after the Temple Mount.
Following the signing of Oslo Agreement between the PLO and Israel in 1993, a subsequent agreement on Hebron signed in 1997 divided the city into two parts, H1 under Palestinian control and H2 under Israeli control.
Israel turned part of the mosque into a synagogue and separated the two parts with barriers and iron gates and put military barracks for supervision and control.