Iraq reports 1,749 new COVID-19 cases, 47,151 in total
2020-06-30 02:29:24 GMT
2020-06-30 10:29:24(Beijing Time)
Xinhua English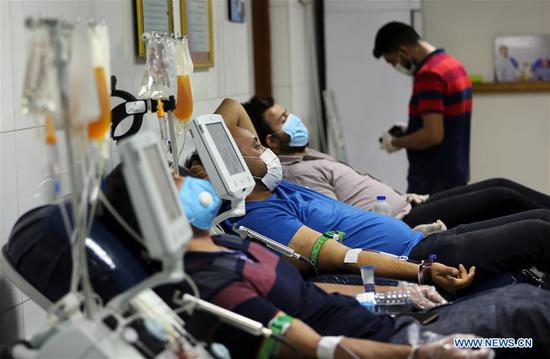 Patients recovered from COVID-19 donate plasma at the National Blood Transfusion Center in Baghdad, Iraq, June 28, 2020. The Iraqi Health Ministry on Monday said that 1,749 new COVID-19 cases are detected, bringing the total infections to 47,151, while up to 1,852 recoveries were registered during the day. (Xinhua/Khalil Dawood)
BAGHDAD, June 29 (Xinhua) -- The Iraqi Health Ministry on Monday said that 1,749 new COVID-19 cases are detected, bringing the total infections to 47,151, while up to 1,852 recoveries were registered during the day.
The ministry also confirmed 83 more deaths, raising the death toll from the infectious virus to 1,839 in the country.
It also said that 1,852 people recovered during the day, bringing the total recoveries from the disease to 22,974.
The new cases were recorded after 11,172 testing kits were used across the country during the past 24 hours, and a total of 532,120 tests have been carried out since the outbreak of the disease, according to the ministry's statement.
Meanwhile, the World Health Organization (WHO) said in a statement that it has launched a major awareness campaign on COVID-19 pandemic that targeted highly affected areas with the disease in 10 heavily populated neighborhoods in Baghdad for four weeks starting from June 29 to July 28.
"The campaign includes using mobile screens, booths, and mobile medical clinics to display WHO educational videos and audio messages on a variety of protection and disinfection measures," the statement added.
"Health is the responsibility of all, and raising people's awareness is instrumental to containing the aggressive spread of pandemics like COVID-19," the statement quoted the WHO representative in Iraq Adham Ismail as saying.
Abdul-Amir al-Shimmary, head of the Iraqi Medical Association, revealed in a statement that up to 775 doctors have been infected with COVID-19 and 13 of them have died so far.
Meanwhile, the media office of the Higher Committee for Health and National Safety, headed by Prime Minister Mustafa al-Kadhimi, said that the committee decided to continue the partial curfew to be started from 7 p.m. local time to 6 a.m.
The office didn't give further details about whether to continue or not the full curfew on Thursday, Friday and Saturday every week.
However, the high number of COVID-19 cases pushed some Iraqi provinces to re-impose full curfew, including Basra province and Maysan in southern Iraq.
China has been helping Iraq fight the COVID-19 pandemic.
From March 7 to April 26, a Chinese team of seven medical experts spent 50 days in Iraq to help contain the disease, during which they helped build a PCR lab and install an advanced CT scanner in Baghdad.
Since March 7, China has also sent three batches of medical aid to Iraq. Enditem