Beirut port fire hits warehouse where food aid stored
2020-09-11 02:20:25 GMT
2020-09-11 10:20:25(Beijing Time)
Sina English
A huge fire on Thursday at a Beirut port warehouse containing food aid threatened to disrupt humanitarian operations and sparked outrage among Lebanese still reeling from a devastating dockside explosion last month.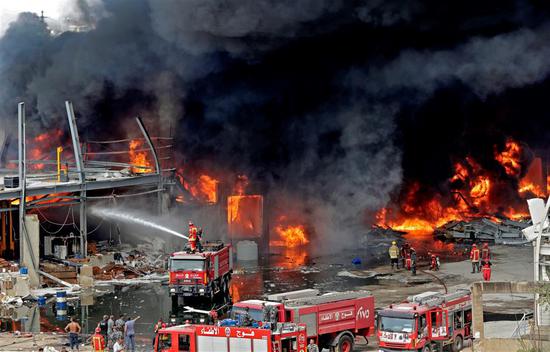 Lebanese firefighters try to put out a fire that broke out at Beirut's port area on September 10, 2020.
It was not immediately clear what caused the blaze just over a month after the August 4 port blast that killed more than 190 people, injured thousands and ravaged tens of thousands of homes.
But the International Committee of the Red Cross said the warehouse ablaze at Beirut port contained precious food aid for Lebanon's embattled population.
"The warehouse on fire is where ICRC stocks thousands (of) food parcels and 0.5 million" liters of oil, ICRC regional director Fabrizio Carboni said.
"The extent of the damage still remains to be established. Our humanitarian operation risks to be seriously disrupted," Carboni added in a tweet.
A civil defence official after sundown told Lebanese television most of the fire, which had sent a massive column of black smoke rising over Beirut, had been put out.
The army and the interim port chief said the fire broke out in a warehouse in the port's free zone containing cooking oil and tyres.
Haitham, a 33-year-old worker at a company at the port, told AFP how he fled the fire as fast as he could.
"We were working when all of a sudden they started yelling at us to get out," he said. "There was welding going on... and a fire broke out. We don't know what happened.
"We dropped everything and started running... It reminded us of the explosion."
'Can't take this much trauma'
Interim port chief Bassem al-Kaissi told the LBC television channel the fire "started with oil containers before moving on to the tyres," but it was unclear was triggered the blaze.
Lebanon's President Michel Aoun said the fire could have been an "intentional act of sabotage, the result of a technical error, ignorance, or negligence."
"In all cases, the cause needs to be known as soon as possible, and those responsible held to account," he said.
The Lebanese Red Cross said one person was being treated after inhaling smoke.
A judicial source told AFP the public prosecutor had tasked "all security agencies to conduct the necessary investigations and determine the type of materials burnt and the causes of the fire breaking out."
Social media users shared video footage of the blaze, which unsettled Beirut residents only just recovering from the country's deadliest peacetime disaster.
The August 4 blast sparked widespread outrage after it emerged authorities had been aware for years of the presence of the huge stockpile of ammonium nitrate that blew up.
The scandal forced the government to resign, and a new prime minister has been appointed to form the next Cabinet.
(Agencies)