Israel comes to standstill to commemorate Holocaust victims
2021-04-08 10:35:58 GMT
2021-04-08 18:35:58(Beijing Time)
Xinhua English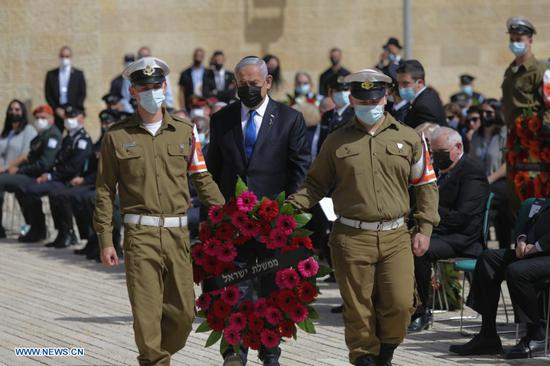 Israeli Prime Minister Benjamin Netanyahu (C) attends an official wreath-laying ceremony marking the annual Holocaust Remembrance Day at Yad Vashem in Jerusalem, on April 8, 2021. (Alex Kolomoisky/JINI via Xinhua)
JERUSALEM, April 8 (Xinhua) -- Israel came to standstill to the sound of sirens on Thursday morning to commemorate its annual Holocaust Remembrance Day.
Ceremonies were held in schools throughout the country, unlike last year when most ceremonies held online due to coronavirus restrictions.
At 10 am (0700 GMT,) as the two-minute sirens pierced the air, people across the country stood in solemn silence in honor of the six million Jewish victims of the Nazis during the Second World War.
In streets and highways, traffic abruptly stopped. Many drivers stepped out of their vehicles, standing still in contemplation. Pedestrians halted their steps and stood in silence. In many homes, businesses, and offices, people stopped their activity and stood still, contemplating the victims of the Nazi genocide.
The sirens marked the beginning of a series of memorial activities on the Holocaust Martyrs' and Heroes' Remembrance Day, an official day to honor the Jews who died at the hands of Nazi Germany and its collaborators in World War II.
At Yad Vashem, Israel Holocaust memorial museum in Jerusalem, Prime Minister Benjamin Netanyahu and other officials attended an official wreath-laying ceremony. Israeli President Reuven Rivlin and Netanyahu also attended another official ceremony on Wednesday evening. Enditem