Beijing showcases Olympic exhibits and visions
2015-06-10 17:01:51 GMT
2015-06-11 01:01:51(Beijing Time)
Xinhua English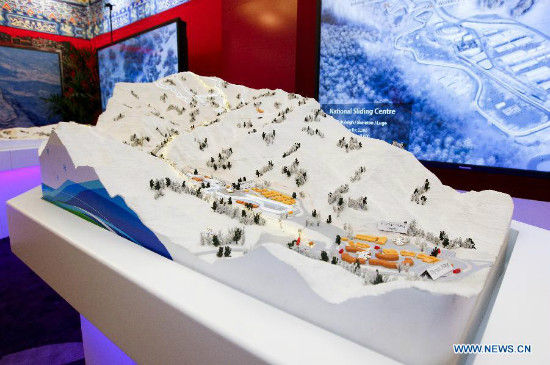 This photo shows a sandbox model at the expo of Beijing Candidate City's bid for the 2022 Winter Olympic games at the Palace hotel in Lausanne, Switzerland, on June 10, 2015. (Xinhua/Zhou Lei)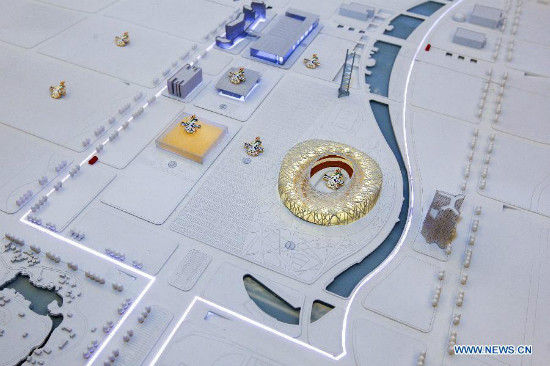 This photo shows a sandbox model at the expo of Beijing Candidate City's bid for the 2022 Winter Olympic games at the Palace hotel in Lausanne, Switzerland, on June 10, 2015. (Xinhua/Zhou Lei)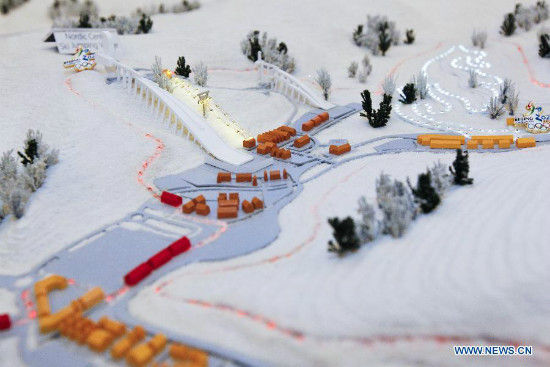 This photo shows a sandbox model at the expo of Beijing Candidate City's bid for the 2022 Winter Olympic games at the Palace hotel in Lausanne, Switzerland, on June 10, 2015. (Xinhua/Zhou Lei)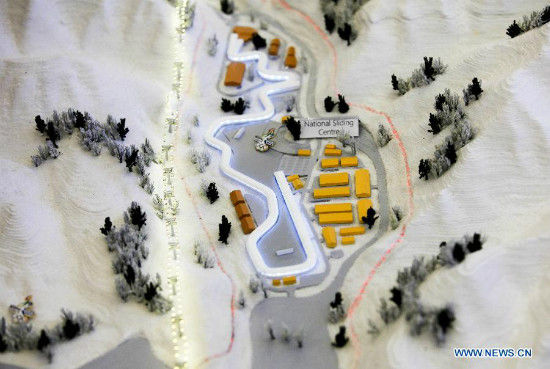 This photo shows a sandbox model at the expo of Beijing Candidate City's bid for the 2022 Winter Olympic games at the Palace hotel in Lausanne, Switzerland, on June 10, 2015. (Xinhua/Zhou Lei)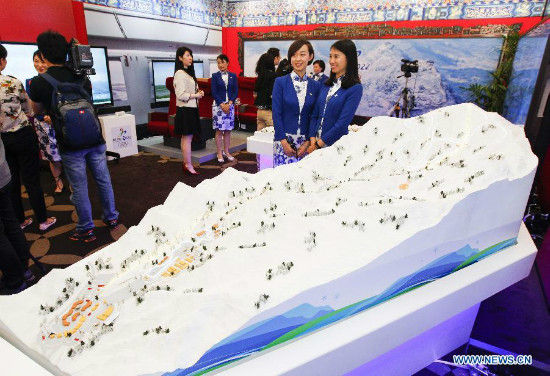 Visitors view sandbox models at the expo of Beijing Candidate City's bid for the 2022 Winter Olympic games at the Palace hotel in Lausanne, Switzerland, on June 10, 2015. (Xinhua/Zhou Lei)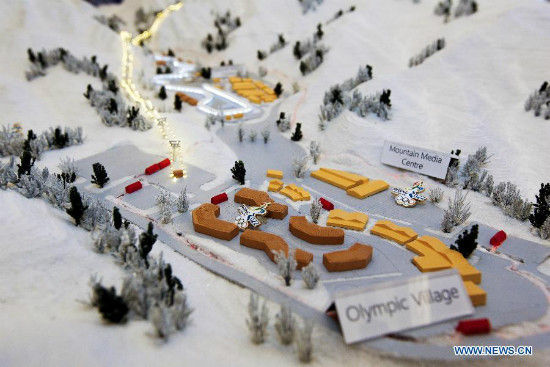 This photo shows a sandbox model at the expo of Beijing Candidate City's bid for the 2022 Winter Olympic games at the Palace hotel in Lausanne, Switzerland, on June 10, 2015. (Xinhua/Zhou Lei)
LAUSANNE, June 10 (Xinhua) -- Beijing tried to impress the International Olympic Committee (IOC) with models of Olympic venues and a virtual train journey on Thursday.
In a presentation room at Lausanne's Palace Hotela which is adjacent to the IOC headquarters, 3D interactive models of three Olympic venues in Beijing, Yanqing and Zhangjiakou, and a virtual train journey experience were offered.
"We are not going to build iconic constructions for 2022 and sustainability is one of our priorities," said Zhang Li, deputy director of the Planning and Technology Department of the Beijing 2022 Bid Committee.
Zhang added that the Medal Plaza in Beijing will be one of the Games' centerpieces.
Zhang also mentioned Beijing's plan to increase the scale of winter sport tourism in Beijing's suburban Yanqing and its co-bidding city Zhangjiakou, which is at the foot of the Great Wall.
Zhou Xing, an official with Beijing's bid committee, told Xinhua that the budgeting for the 2022 Games will be "scientific, prudent, practical and economical".
The budget for the organizing committee is projected to be 1.56 billion US dollars, and a further 1.51 billion will be used on infrastructure renovation.
Beijing's sole competitor, Almaty, had a separate presentation room.
Almaty's rationale is rooted in the desire to accelerate economic and social reforms, to build on the country's winter sports heritage, and to showcase the positive aspects of Almaty and Kazakhstan, according to an IOC evaluation commission report published earlier this month.
The IOC will choose the host city for the 2022 Winter Games on July 31.