过去1个世纪以来,世界海洋分为四大洋,是地球上太平洋、大西洋、印度洋、北冰洋的总称。 在通俗的说法中,也用四大洋泛指地球上所有的海洋。但今后,四大洋要变成五大洋了。美国国家地理学会宣布将南极洲周边海域的南大洋认证为世界第五大洋,并将在此后的世界地图绘制中按照"五大洋"进行划分。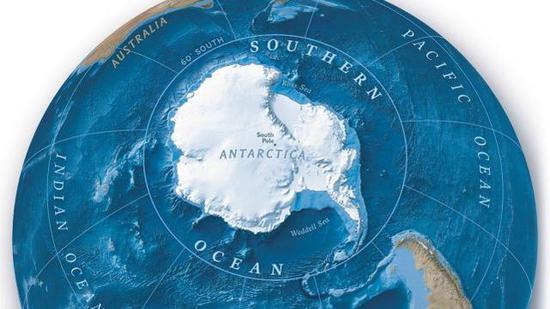 Southern Ocean officially recognized by National Geographic
National Geographic announced Tuesday that it is officially recognizing the Southern Ocean as the Earth's fifth ocean. The announcement was made to coincide with World Oceans Day.
本周二,美国国家地理学会宣布,正式承认南大洋为地球的第五大洋。宣布这一消息当天恰逢世界海洋日。
The Southern Ocean is a vital home for marine ecosystems and a focal point for the southern hemisphere. It directly surrounds Antarctica, extending from the continent's coastline to 60 degrees south latitude, excluding the Drake Passage and Scotia Sea. The ocean's borders touch three of the four other oceans that exist on Earth — the Atlantic, Indian and Pacific.
南大洋是海洋生态系统的重要家园,也是南半球的焦点。它直接环绕南极洲,从大陆的海岸线延伸到南纬 60 度(不包括德雷克海峡和斯科舍海)。海洋的边界与地球上其他四个海洋中的三个相连——大西洋、印度洋和太平洋。
But what makes the Southern Ocean different from the others is that rather than being largely defined by the land that surrounds it, this body of water is unique because of a current that lies within.
但是,南大洋与其他大洋的不同之处在于,这片水域并非主要由周围的陆地所定义,而是由于存在于其中的洋流,这是独一无二的。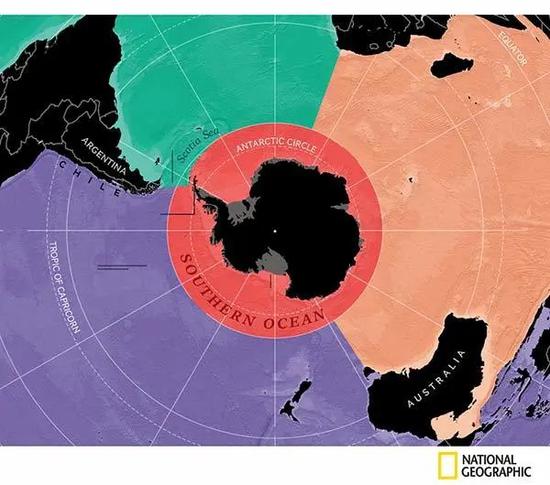 The Southern Ocean's latitudinal boundary of 60 degrees south is roughly the same boundary as the Antarctic Circumpolar Current (ACC), which, according to National Geographic, brings about colder and less salty water than what is found just north of the region. This current, estimated to be approximately 34 million years old, is what makes the ecology of the Southern Ocean so distinct, providing a unique habitat for thousands of species, National Geographic said in its magazine.
南大洋以南 60 度的纬度边界与南极绕极流 (ACC) 的边界大致相同,据美国国家地理学会称,它带来的海水比该地区北部发现的海水更冷、咸度更低。美国国家地理学会在其杂志上说,这股洋流估计大约有 3400 万年的历史,使南大洋的生态如此独特,为数千种物种提供了独特的栖息地。
注释:
南极绕极流(Antarctic Circumpolar Current,ACC)是自西向东横贯太平洋、大西洋和印度洋的全球性环流, 也是世界上唯一一支和地球上所有其他洋流都有关联的洋流。南极绕极流在南纬35°~65°区域,与西风带平均范围一致,形成西风漂流,又因南极大陆附近的海水密度小于南极外海的海水密度,乃生成由西向东的地转流,故南极绕极流是西风漂流与地转流合成的环流。
But, National Geographic said that water moving through the ACC is warming, and the society hopes the new recognition will help with conservation efforts.
但是,美国国家地理学会表示,流经南极绕极流的水正在变暖,社会希望对南大洋新的认定将有助于保护工作。
As described in National Geographic by NOAA marine scientist Seth Sykora-Bodie, the Southern Ocean is unique in that "the glaciers are bluer, the air colder, the mountains more intimidating and the landscapes more captivating than anywhere else you can go."
正如美国国家海洋和大气管理局(NOAA)海洋科学家赛斯•西克拉-博迪(Seth Sykora-Bodie)在《美国国家地理》中所描述的那样,南大洋的独特之处在于"冰川更蓝,空气更冷,山脉更令人生畏,风景比任何其他地方都更迷人。"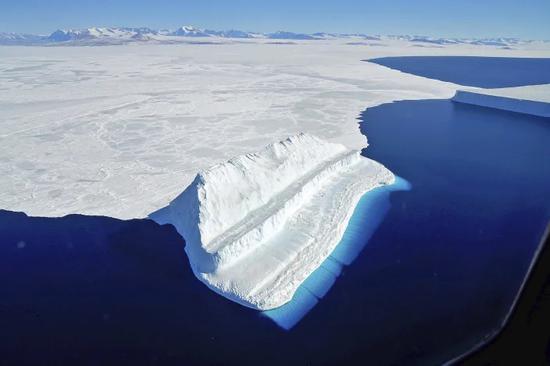 The National Oceanic and Atmospheric Administration (NOAA) also recognized the Southern Ocean's designation earlier this year, and the U.S. Board on Geographic Names has recognized the ocean since 1999.
今年早些时候,美国国家海洋和大气管理局 (NOAA) 也承认了南大洋的名称,美国地名委员会自 1999 年以来也承认了南大洋。
However, National Geographic said in its announcement on Tuesday that scientists around the world have been trying to reach an official designation for years. In 2000, participating countries of The International Hydrographic Organization could not agree on proposed boundaries for the ocean. While the boundaries remain up for debate, many members of the IHO have reached a general consensus that the waters surrounding Antarctica are different. Many members of the IHO, according to National Geographic, have referred to the Southern Ocean as the Antarctic Ocean or the Austral Ocean.
然而,美国国家地理学会在周二的公告中表示,世界各地的科学家多年来一直在努力达成官方认定。 2000 年,国际海道测量组织的参与国未能就拟议的海洋边界达成一致。虽然边界仍有待讨论,但 IHO 的许多成员已达成普遍共识,即南极洲周围的水域是独特的。据《美国国家地理》杂志报道,IHO 的许多成员国都将南大洋称为南极大洋或澳大利亚大洋。
As part of the new designation, National Geographic is updating its maps and atlases, which it began making in 1915. The society said that the ocean will be "treated the same as the traditional four," and that it will be included in what children learn about the world's water.
作为新名称的一部分,美国国家地理学会正在更新其于 1915 年开始制作的地图和地图集。该学会表示,南大洋将"与传统的四大洋一样对待",并将收录在介绍世界水域的儿童读物中。
注释:
atlases:地图册; 地图集;
[例句]With geological maps, books and atlases you can find out all the proven sites of precious minerals. 有了地质图、书籍和地图册,你便可以找到所有已探明的珍贵矿藏的位置。